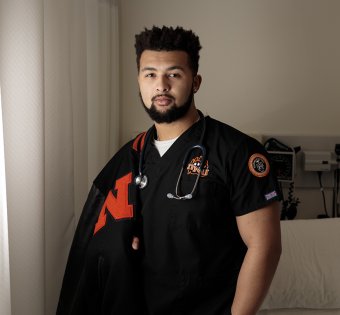 Nursing major Jarrett Sitton couldn't be happier with his decision to transfer to Ohio Northern University and study nursing. In fact, he calls it "the best decision I've made in my life thus far."
Although he transferred to ONU as a sophomore, he never skipped a beat and quickly found his place in the nursing program and the ONU football team. He jumped right into nursing classes and clinicals, and although the program was extremely challenging, he realized that ONU provided all the resources and support he needed to be successful.
The nursing program proved to be a perfect fit for Jarrett. He sees his professors almost as surrogate parents. They certainly don't go easy on him, but they're also some of the most compassionate and committed individuals he's ever met.
"They expose us to everything, and it helps us be prepared for any situation – all the times that we are in the simulation room practicing things there and practicing different procedures in our labs," he says. "Through that, and our very, very rigorous education side of it, they always prepare us for every situation to where we'll never go into something not knowing what to do."
Through his nursing rotations at various hospitals, he's also gained a lot of valuable high-impact learning experience, such as witnessing a birth and helping diffuse a combative patient in a hospital mental health unit. The variety of his clinicals has exposed him to all the different career options out there, and he's found that he has a real passion for the mental health specialty.
Jarrett has also experienced camaraderie on a whole new level at ONU. He is friends with all of his classmates, and although they have interests in varying specialties of nursing, from pediatrics to mental health, they are always a great resource to one another. In addition, the ONU football team adopted him into their family so seamlessly, and one of his favorite memories at ONU was the moment of celebratory thrill on senior day when the team beat Heidelberg University for the first time in four years.
Jarrett is thankful to ONU for so many reasons – small-town atmosphere, tight-knit bonds, top-notch education – but most of all, for the positive, nurturing influence that's helped him grow into the best version of himself.