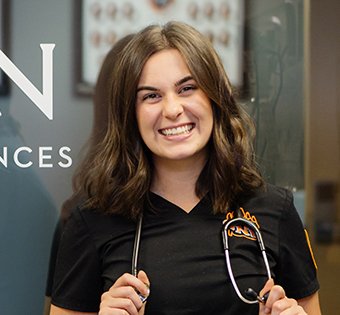 Nursing students wants to be a difference maker
Nursing student Isabella Orofino has her life's purpose figured out, and it's to care for others. 
While many nursing students are driven by a similar motivation, Isabella says she's been deeply impacted by nurses who have provided outstanding care to her family members. "I want to be that difference maker," she says.
When she was in high school, Isabella believed a large university would offer her more opportunities for leadership and success. Yet she chose ONU because she liked the friendliness of the people and the personal attention a smaller university can provide. After a few months on ONU's campus, however, she realized her 'bigger is better' presumption could not have been more wrong. 
 "At ONU, the opportunities are so plentiful that I quite literally have a hard time saying 'no' to all the great experiences I do not have time to fit into my schedule," she says.
Isabella plays varsity golf, is vice president of the Student Senate and has taken on leadership roles with her sorority, Zeta Tau Alpha, to name a few. She appreciates that her professors go above and beyond to enable her to juggle clinicals and exams with golf practices and meets. 
"They encourage me and really do want me to succeed," she says. "I also love the small classroom environment, where I am able to ask questions and get the one-on-one help I seek."
Encouraged by her parents to "be like a sponge" and soak up knowledge and experiences, Isabella has explored different fields of nursing and delved into self-care and wellness topics, from essential oils to gua sha to yoga and meditation. After graduation, she would like to move somewhere warm, where she can golf year-round, and possibility become a traveling nurse. But she's keeping her career options open.
"I've always been an individual who needs to stay busy," she says. 
And even though ONU is located in a rural area, Isabella still finds "a million things to do." 
"But what I love about ONU is that when all is said and done, I still have the environment I need to relax and take a breather. Plus, I am part of a school where people care so much about me."