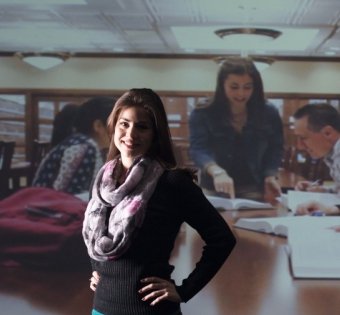 Hercilia Carrion's experience exactly embodies the very essence of ONU's first broadcast television commercial, "The Unexpected," because her participation was totally coincidental. In the video, she appears enthusiastically pointing at a book during a group-study session.
When she was studying in the library the day of the filming, hitting the books was primarily what was on Carrion's mind – not being in a commercial. The crew initially asked her to move so they could shoot the scene but then decided to ask her to participate.
Carrion was actually familiar with the production process and had done filming for commercials before, so, ironically, this part of the experience was exactly what she expected. Thus, the spontaneity of the situation was the most memorable part of the experience for her.
"I was studying at the moment, and I was not expecting it at all, so it was a nice little surprise. It was fun, definitely," she says.
Carrion feels it was comical that the scene required her to "pretend that I was talking about the law," since she was actually doing just that when the filmmakers asked her to be a part of the shoot.
Carrion thinks the video brings a lot to the table for viewers and depicts the vast land of opportunity that is Ohio Northern University.
"I think viewers are going to learn that there are so many things to do at the University, so many things to get involved in and so many majors that they can pursue," she says. "I think they're going to feel like it would be a nice, exciting place to come to."