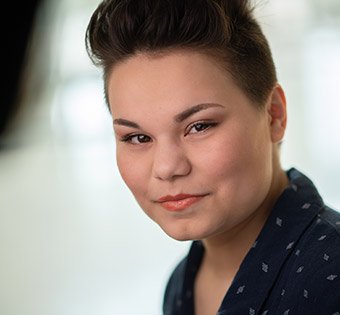 One often hears actors talk of "living their dream" in the context of working professionally in their field. But for performers like Hannah Enciso, attending college to study her lifelong passion is already a dream come true. The sophomore theatre major from Romeo, Michigan, chose Ohio Northern University because it afforded her opportunities to learn from the best in a multitude of areas centering around media and the arts. Whether it's singing, dancing, acting, drawing, painting, writing or even makeup, ONU is teaching her to get better at all the things she loves to do.
"ONU is providing me with the thorough education I was looking for. The environment here fosters friendship and critical thinking about the media we produce. Everyone is a family that shares knowledge and talent with one another," she says.
Hannah's love for the performing arts is rooted in her childhood love of Disney musicals and seeing children her age performing. While not her first time on stage, she lists performing at a Theta Alpha Phi cabaret in front of all her friends and classmates last year as her most memorable ONU moment to date. This semester, she is broadening her skillset behind the camera as the theatre department is filming the plays for the International Play Festival due to the pandemic restrictions on live audiences.  
In addition to being all about that theatre life, Hannah is also very involved on campus. She is a member the Gospel Ensemble, Sigma Tau Delta, Theta Alpha Phi and she is the vice president of Open Doors, which she credits with providing a "fun, soothing atmosphere." After graduating from Northern, she has her sights set on the Chicago theatre scene,  breaking into film acting, and living all the dreams she can envision for herself.