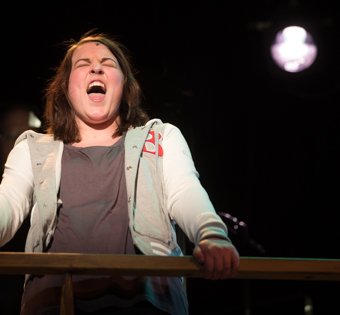 Destined for the stage and spotlight, international theatre production and musical theatre double major Haley Ward traveled across the country to pursue her dream at Ohio Northern University. 
While growing up in Gladstone, Ore., Haley was inspired to express herself through music and art. She knew she wanted to study every aspect of the theatre, and she was determined to find a school where she could do so – even if it meant traveling more than 2,000 miles away from home. When she decided on ONU, she had no idea just how many opportunities and experiences this small-town school would bring her. 
As a student, Haley has filled many diverse roles, from Mercutio to Tabby. She is a member of the ONU musical improv troupe Fearless ShenANYgans, chapter chair of the U.S. Institute for Theatre Technology and a member of the theatre honorary, Theta Alpha Phi. Her curiosity and willingness to learn, paired with the individualized attention she receives at ONU, have allowed her to discover new passions and talents. 
"The faculty will move mountains so you can have the opportunity to achieve your dreams," says Haley. "I showed interest in rigging, and my professor, Brian Phillips, added a whole course because of my interest."
As a result, Haley spent her summer in Louisville, Ky., as a rigging intern for ZFX Flying Effects. She learned a variety of new skills working in a different department each week, such as automation, hoist testing, material manufacturing and more. 
ONU has also helped Haley find her love for stage management. With minimal previous experience, she managed an entire production with 31 cast members, 12 crew members and several guest designers. The experience challenged her endurance, patience and problem-solving skills, helping her grow in ways she never imagined. 
"When I stage managed The Pirates of Penzance at ONU, something changed in how I saw myself in the future. I could see myself performing and managing," she explains. 
After graduation, Haley hopes to be cast in a national tour or pursue a career in comedy. She would also love to work as a rigger or stage manager for Cirque du Soleil. 
Whether it's a role in the spotlight or a job behind the scenes, the experiences she has gained at ONU have given her the confidence to chase her dreams – in whatever aspect of theatre she desires.