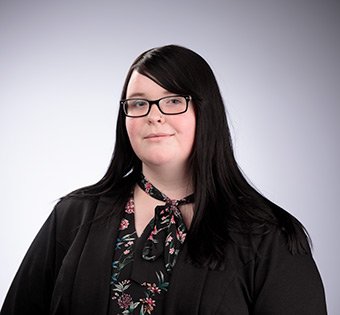 In Haley Kessinger's educational journey at Ohio Northern, she has not only changed and grown as a person, she's become a change agent on campus.
The first change Haley made was switching her major from pharmacy to public health. She knew she wanted to follow in the footsteps of her mom, who has been an advocate for individuals with disabilities for more than 40 years, as well as her older sister, who has devoted her career to helping people with disabilities obtain employment skills. Through her coursework and discussions with her professors, Haley discovered that public health was the best path to achieve her goal.
"Being an advocate is a large part of public health and it has sparked a passion for me to pursue the goals in public health; to promote health, to prevent disease and to achieve equity in populations," said Haley. To round out her major, Haley added three minors: gender and sexuality studies, psychology, and medical humanities.
Haley also set out to bring change to campus through her involvement with Student Senate. As housing secretary, she spearheaded an effort to adjust the opposite gender visitation hours in the residence halls. The University adopted her proposal to eliminate restrictions in the upperclassman dorms and to push visitation back by one hour in the freshman dorms. Haley also successfully advocated for changing the Homecoming Court titles from "King" and "Queen" to "Homecoming Royalty" to make the court more welcoming and inclusive for all gender identities.
In recognition of her leadership and outstanding efforts, Haley received two top awards from the Student Senate: the Justin A. Stiles Secretary of the Year Award and the Kendall and Toby Baker Award for Promising Campus Leadership.
In addition to Student Senate, Haley is President of the Public Health Organization and a brother of Kappa Psi. She also had the "amazing opportunity" to work for the Public Consulting Group (PCG), which does COVID-19 contact tracing for the Ohio Department of Health. PCG recently promoted Haley to a supervisory position even though she is still an undergraduate college student.
Since coming to ONU, says Haley, "I've grown as a person and in my thoughts and ideas." She adds: "I am proud of the community we have at ONU. I am proud to be part of a community that is accepting and welcoming, that pushes us to grow and to try for the unexpected."