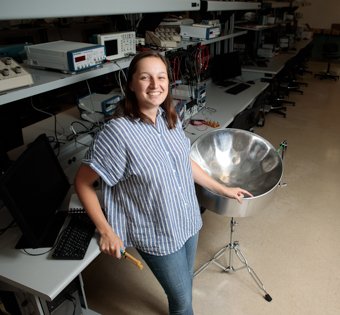 For electrical engineering major Georgia Snelling, her Ohio Northern story began with something like love at first sight.
When she was a freshman in high school, she attended an engineering pathways workshop at ONU hosted by Marathon Petroleum Corporation. It was December, so she got to solder together little Christmas trees for a project. From that point on, she was hooked.
Over the next two years, she would return to campus for engineering-themed summer camps. She would spend time alongside seasoned faculty, getting a good feel for what studying engineering at ONU would really be like.
These formative experiences really stuck with her, to the point that making her college decision wasn't really a decision at all. There was only one option that made sense to her – becoming a Polar Bear.
When Georgia finally made ONU her home away from home, she found that while all the opportunities were there – multiple musical ensembles to participate in, engineering co-op and internship opportunities – balancing all those opportunities was easier said than done. Sometimes if felt like there just weren't enough hours in her short days to accommodate all she wanted and needed to do.
So, she started to look for others in her same position that seemed to be "doing it right." She looked for role models.
"I found these upperclassmen who were also just as involved as I was and had the same major, and I told them, 'I'm really struggling right now. Is that OK?'" she says. "Being able to have an upperclassman say, 'It's OK what you're going through. We all did it, and you'll get through it.' Having that kind of support from other students in the same major and the same kind of activities as you, I really valued that because it meant that I could do it as well."
In virtually every situation in which she's needed support, she's found it. Whether she's stumped on a difficult engineering concept, or she's exceeded her capacity for extracurricular activities, there's always been a classmate, a faculty member or an advisor to help her figure things out.
Georgia's area of interest is control engineering and safety systems, both vital functions for virtually any company. When she first decided to pursue electrical, she didn't even know these kinds of careers were an option. She thought she was going to spend four years perfecting the art of soldering; it turns out she didn't have to solder at all in any of her classes.
"You learn so much more at ONU," she says. "You can narrow down what you like and don't like and then follow that path."
If it wasn't for ONU, Georgia may have never found her path. She's thankful for all that ONU has provided her – in engineering and beyond – and she's ready to make an impact.