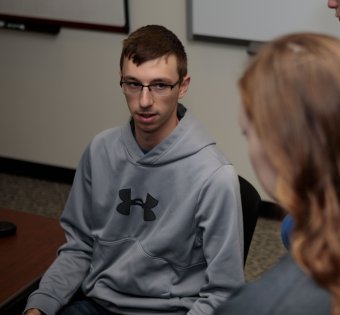 When Ethan Smith shares his college experiences, he doesn't talk about what he does; he talks about who he does it with. "ONU has shown me the importance of giving back and taking care of the community I am a part of," says Ethan. "A community is only as strong as the people in it, and I want to be a small part of its impact for other people."
ONU was a great fit for Ethan not only for the community and opportunities he would find, but also financially. The financial aid and scholarship package he received from ONU was incomparable. He looked at other schools, but with his desire to obtain a science degree and go into teaching, ONU was easily the obvious choice for him.
Coming to ONU started as just a college decision. Now as a second-year student studying biology with an integrated science teaching certificate, ONU means so much more to him. Ethan started as a pre-med student. He found himself doing well in classes and enjoying the content. However, looking down the road at the larger commitment of both time and money, he saw himself doing something else. "I have a passion for science and for helping others. If you put those two qualities together, you get either a doctor or a teacher. I chose the latter."
Now, his dream is to devote his time to giving back to the community that made him who he is today. Ethan's goal is to move back home to Londonderry, Ohio, to teach high school biology at his old high school.
Ethan's commitment to his community started in high school and has only grown over his time in college. With a lawn care and landscaping business at home, and plans to become a future educator, he makes it a priority to give back to his community in an ethical and responsible way. He continues to learn these skills and ethics while attending Ohio Northern University through its strong emphasis on community, the family-like atmosphere of the men's varsity golf team, and his responsibilities creating community as a resident assistant.
"ONU offers a rigorous and challenging curriculum that prepares students for future careers, but it also has the greatest and most personable professors out there who will help you face to face, whenever you need them," says Ethan.
From academics and athletics, to residence life and student organizations, Ethan is proud to be an ONU student because the community across content areas is consistent. He has found a family atmosphere with the varsity men's golf team, feels like he can make an impact by creating community in the resident halls as a resident assistant, and continues to give back to communities that have invested in him. If there is one thing Ethan will leave ONU knowing, it is that life is better in a community.