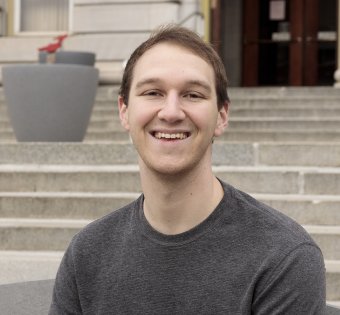 For Eric Dierkes, wanting to go into pharmacy has been a lifelong goal. He reflects, "In the second grade, I wrote a journal that said when I grew up, I would be a pharmacist because of how much I enjoyed visiting the pharmacy inside the local hospital my mother worked at. Since then, I made the conscious decision to attend pharmacy school." Encouraged by ONU pharmacy alumnus Justin Isaly, PharmD '04, he applied to the ONU Raabe College of Pharmacy and was accepted. 
During his time at ONU, Eric had the opportunity to serve on the executive committee for the National Community Pharmacists Association (NCPA), allowing him to grow as a pharmacist through local and national meetings. "My growth as a pharmacist was directly tied to my involvement in professional organizations and dedicating myself to learning about pharmacy outside the classroom," he says. With NCPA and early pharmacy rotations, he felt he found his niche in pharmacy and a desire to work in an independent pharmacy.
One of the most notable aspects of Eric's college career has been working with the Kenton Hardin Health Department (KHHD) to provide assistance with the COVID-19 crisis. With a great number of patients suspected to have COVID-19, KHHD has needed assistance with investigating suspected cases and contact tracing. Eric, along with pharmacy students Michaela Mrozek and Makayla Wells, are working with KHHD by reaching out to people suspected to have COVID-19 over the phone, checking on symptoms and making appropriate referrals based on those symptoms. The ONU pharmacy program and the KHHD have a long-standing collaborative relationship.
"Ohio Northern has been a tremendous fit because of how the campus truly mirrors that small community atmosphere," he says. "The faculty truly work to develop relationships with their students and allow themselves to be accessible and approachable. With the small campus, I knew everyone in my pharmacy class and developed such great relationships with so many of my classmates that I will have the rest of my lifetime."
Learn more about the Raabe College of Pharmacy and our PharmD major here https://www.onu.edu/college-pharmacy.