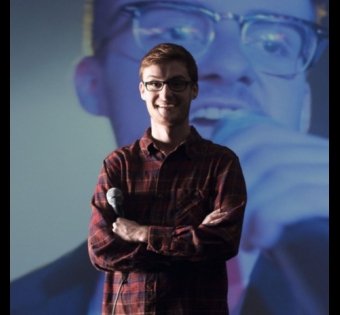 Eric Belanger appeared in ONU's first broadcast television commercial, "The Unexpected," wielding a microphone during a segment featuring his band, the Dimers. The six-member band has played at campus events for the past few years, and its reputation garnered so much attention that the ONU Office of Communications and Marketing reached out to them to be a part of the video. He and the other band members were thrilled.
Belanger's favorite part of the experience was working with the film crew. He described how filming the concert scene in the Bear Cave was challenging.
"I had to figure out a way to charge up with power and then grab the microphone stand but not move it at all because it's so zoomed in," he says. "It was an adventure."
Belanger loves the small size of Ada and Ohio Northern University, but just because it's small doesn't mean there's nothing to do – a concept he thinks the video definitely captures.
"Even though it's in a town in the middle of 20 miles of cornfields, you still never get bored," he says. "I was afraid coming here that I would have to travel to find things to do, but I rarely even leave campus or hit Main Street without finding something to do."
He likes the energy the video exerts, and he believes people's reaction to the video will reflect that energy.
"I don't see how someone won't like it, because it's just a video of a bunch of people having fun," he says. "That's what ONU is."