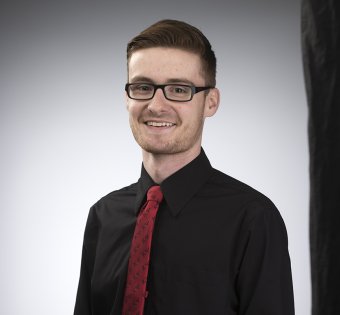 Pharmacy major Eric Belanger's undergraduate research experience at Ohio Northern University both sparked a new interest in drug stability and lay the foundation for a career in pharmaceutical science. In addition, working alongside his professors in the lab gave him an appreciation for professional relationships.
Eric took advantage of his first research opportunity through a pharmaceutical science course expansion to fulfill a requirement for the ONU Honors Program. He worked alongside Dr. Yousif Rojeab studying the stability of a drug called Kinevac, which is commonly on the national shortage list due to its short shelf-life and single-use nature. Their research sought to evaluate the true characteristics of the drug compound's degradation when stored at both room temperature and under refrigeration.
Eric enjoyed this research experience so much that even after completing the course, he decided to continue researching in Rojeab's lab. With help from the Honors Program, he was able to coordinate a customized learning experience to discover more about drug stability and laboratory processes. As a result, he was able to present his findings at Ohio Northern's annual research symposium, and his work was also published in the Journal of Nuclear Medicine Technology.
After graduating from ONU, Eric matched into a residency at Covenant HealthCare in Saginaw, Mich., and he plans to pursue a career in clinical-based pharmacy in a hospital setting, specializing in oncology and infectious diseases. His research experience at ONU gave him a behind-the-scenes look at some of the reasons behind hospital shortages and solidified his career choice.
"Walking through each step in the investigational process, from hypothesis to publication, while conducting research at Ohio Northern is proving to be very valuable experience now that I am a pharmacy resident," he says. "I am currently working on my own research project and conducting a few different medication use evaluations in order to improve patient care/hospital processes. The skills acquired during my ONU research experience are definitely being used every day."
In addition to his academic success, Eric also learned a lot about professional relationships at ONU. He grew to feel like a colleague to his professors instead of "just a number," and he connected with professors and classmates both inside and outside of class.
"The reason I love ONU's pharmacy program in particular is the people behind the program," he says. "ONU's faculty members go above and beyond to help when students are having trouble with material, or provide unique learning opportunities to a student looking to expand their learning experience."