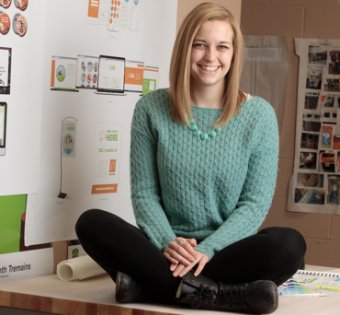 Graphic design and communications double major Emily Fergus has taken full advantage of the opportunities for personal and professional growth that ONU has brought her way.
Emily has always loved art, and ONU's graphic design program has proved to be a great fit that enables her to have the kind of creative career she enjoys. Her senior year, she received an American Graphic Design Award from Graphic Design USA for an interactive exhibit design that highlights Ada's local history and important sites. The prestigious national award showcases graphic designers from across the country and is only given to the top 10 percent of the competition's nearly 10,000 entries each year.
After taking some classes in the Department of Communication and Media Studies, Emily realized she was interested in learning what makes communication effective. She decided to add communications as a second major, which has complemented her graphic design expertise and made her more versatile.
She's also completed multiple internships during her time at Northern – first with Comstor Outdoor, a billboard company in Huntsville, Ohio, and then with Xcelerate Media in Dublin, Ohio, as a creative development intern. In addition, she's worked as an on-campus student design intern for ONU's Office of Communications and Marketing since her freshman year.
But it's not just high-impact learning that helps her grow; it's the way she gets involved in the campus community, too.
Emily is involved in Kappa Phi (ONU Christian sisterhood), Residence Life, the Student Planning Committee, Kappa Pi and the American Institute of Graphic Arts (AIGA).
Through these organizations, she's gained leadership, planning and time management experience, not to mention memories that will last a lifetime.
"ONU feels like a second home to me, and I love its charm and opportunities," she says. "My professors have always pushed me to be my best and stretch my thinking. I think my time at Northern has prepared me to take on the world."