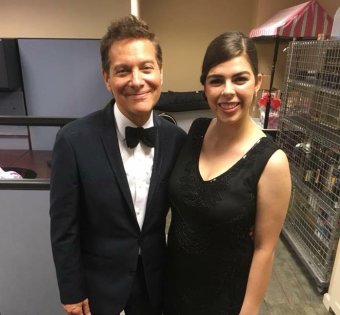 Musical theatre major Emily Estep became involved with show business early in her college career, and it paid off in a big way.
Estep had the opportunity to perform with renowned entertainer Michael Feinstein at "Feinstein's at the Nikko" in San Francisco. She earned this opportunity by placing second out of 40 performers and tying for the Songbook Inspiration Award at Feinstein's highly selective Songbook Academy in Carmel, Ind. Feinstein, who has been nominated twice for Emmy Awards and five times for Grammy Awards, is the founder of the Songbook Foundation and corresponding academy. The facility trains selected young, highly talented singers who love the music of classic Broadway shows, jazz and other melodies from the "golden age" of American popular culture.
"Since I have always had a passion for both music performance and the golden age of music, this was an incredible experience," says Estep.
Estep was selected for the Songbook Academy twice while a high school student. Applicants must submit video of themselves performing selections from the Great American Songbook collection. The competition was fierce.
"The first year, I was stunned by the quality of the other performers," Estep says. "After that initial experience, I was focused the second year on being selected to perform with Michael Feinstein. I chose a piece I really had a connection to, and it all came together."
Traveling across the country to Ohio for college was not easy for Estep, who is from Fresno, Calif., but she was attracted to ONU's unique educational offerings.
"I knew I wanted to major in music theatre, and Ohio Northern offers the whole package," she says. "It offers training in the arts and musical theatre, and its curriculum allows me to go in other directions and explore various interests. Plus, the faculty really make a difference with the personal touch. They take a genuine interest in the students' success."