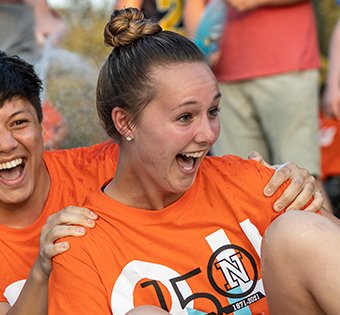 Ellie Miller possesses the heart of a teacher. "Education has always been and continues to be the only thing I have ever wanted to do," she says.
ONU wasn't Ellie's first choice, however, because this middle childhood education major from Kenton, Ohio, wanted to attend a college farther from home. Then ONU offered her the best financial aid package and the chance to play basketball. Combined with the fact that she could commute from home, it became a "no brainer" financially to enroll at Northern, she says.
It didn't take long for Ellie to discover that she'd made an excellent choice. ONU is filled with "wonderful people," she says, who truly care for her. They are perfect role models for a budding teacher. "After my freshman year, I knew there was no better college for me. I believe that if I had gone to a different school, I would not have achieved the same level of success."
Ellie's education professors have been "flexible and amazing," she says. When she decided to take up golf instead of playing basketball, the women's golf coach welcomed her with open arms and made her feel part of the family. When her grandfather passed away, the dean of the College of Engineering, where she is a student worker, sent her a heartfelt note. And the secretary in the College of Engineering "has been like a second mother to me" adds Ellie.  
At Northern, Ellie has pursued all her passions. She's a Good News Bear and Orientation Leader. She plays women's golf, intramurals and is a member of the Fellowship of Christian Athletes. She is also a member of Kappa Phi and Teachers of Tomorrow. These experiences have made her better at communication and time management—skills she'll need in the classroom someday.
"ONU is diverse for a small private university and offers a wide range of opportunities and people," she says. "Because ONU is a smaller campus, you get to know everyone, and I am so grateful for the chance to do just that."