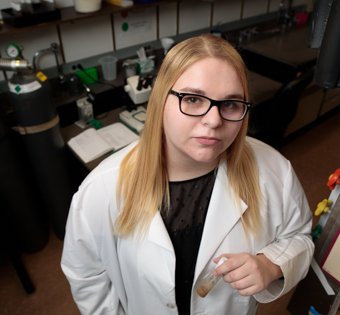 Molecular biology major Elizabeth Olah came to ONU with an aspiration to go into medicine. Her passion was built on a foundation of love for her family and science. Growing up in Mentor, Ohio, she knew she wanted to become a doctor, and her passion was evident the minute she stepped foot on campus.
But ONU seems to be a place where people take their passions further than they ever dreamed in order to impact the world around them. Interests in affordable health care, cancer awareness and helping others led Elizabeth toward a career in medicine. She knew that becoming a doctor would allow her to combine her passions. She still believes this, but her dream just got a little bigger.
Her freshman year, Elizabeth never considered research as a career interest, but she is glad she ended up there. By coming to ONU, she was able to discover many different possibilities in research and even go on to intern at the University of Oklahoma Health Sciences Center. While there, her research focused on chronic lymphocytic leukemia (CLL), the most common form of adult leukemia in the world. By looking at different ways for molecules to effectively target only cancer cells and not harm the healthy cells, the research gave promising results and will likely be going for clinical trial within the next year or so.
"Research at the university has provided me with an invaluable foundational tool set for my future career," she says.
After graduating as a molecular biology and chemistry major, Elizabeth plans to go into a MD/Ph.D. program in pediatric oncology with a research focus. The personal attention she received from professors at ONU and mentor relationships she formed with them provided her with the confidence to pursue research. Working one-on-one in a research capacity gave her the tools she needed to succeed and work as an intern to help study new ways to fight cancer. With the foundation ONU has provided, Elizabeth will take her dreams to new heights. 
Becoming a doctor is a big dream. Take that one step further by adding research that fights cancer cells, and you have a huge impact.