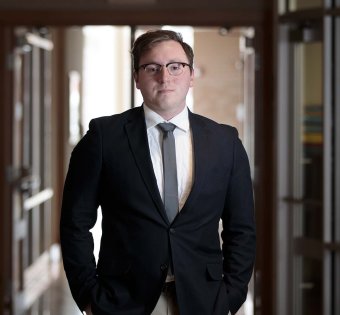 Pharmaceutical/healthcare business major Drew Ridgway knew that Washington, D.C., was the hub of governmental change, but it wasn't until he lived and worked there that he saw the city come to life.
Through the Washington Center, a nonprofit organization specializing in internship placement, Ridgway completed a summer internship in the capital city working for the DC Coalition on Long Term Care, an organization whose mission it is to expand and improve the quality of long-term care programs for low-income D.C. residents.
The internship involved a lot of networking with government officials. He rubbed shoulders with influential people, including at-large D.C. City Council members Anita Bonds and Robert White Jr., and even the first lady of South Korea, Kim Jung-sook. Furthermore, it wasn't unusual to walk down the street or into a coffee shop and catch a glimpse of a high-profile politician.
The experience also changed the way he looked at how ordinary people can bring about governmental change. It's more than just pushing papers; it's about actively advocating for those in need who can't help themselves. He witnessed the action it took to get to that point and the people who made it happen.
"It's interesting to see all the different programs set up to aid people," he says. "You don't often think about all these people who are not doing so well for themselves, but then you actually see the program being implemented and these people being helped. You realize that change can happen and what you're doing actually matters."