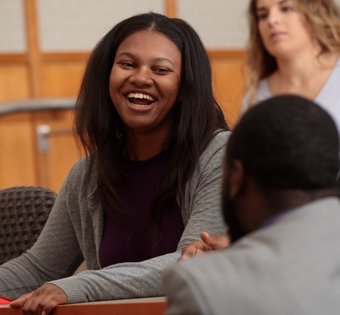 Pharmacy major Dominique Redmon is passionate about the health and well-being of others, whether it's providing mental and emotional support or helping people improve their physical health. Being at Ohio Northern has allowed her to do both.
Dominique stays involved at ONU through organizations like Black Student Union and the Academy of Managed Care Pharmacy (AMCP), but there was still something missing. That's why she co-founded Sister 2 Sister, ONU's chapter of the Student African American Sisterhood. This new student organization was the first of its kind to be established in the state of Ohio and provides a safe space for female students of color to come together.
Sister 2 Sister fills a gap in the lives of its members that is vital to their success and well-being at ONU. They study together, celebrate together, form lasting bonds of friendship, and support each other through the struggles and challenges of pursuing higher education. Most importantly, though, they have created a circle of trust that allows everyone to be heard and respected no matter what.
"For me, it gave me a reason to stay on campus and, hopefully, paved the way for other women of color to come here and stay here," she says. "Just having that environment of people who are like you is so important."
She's also found several opportunities within pharmacy to help others improve their physical health. From communicating with patients about their medications during her internships, to creating outreach events through AMCP to educate the community on sun safety, she's learned how to grow by teaching others how to take care of themselves.
"I've joined many organizations within my major and outside of my major that relate to who I am as a person," she says. "Every student should go to events that would take them out of their comfort zone, meet different types of people and expand your horizons."