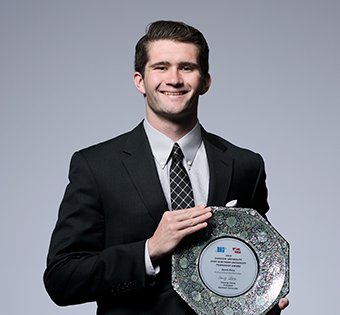 Derek Price, BA '18, has always enjoyed analyzing people and the decision-making process. At ONU, he majored in political science and psychology with a minor in international studies. "Being a double major allowed me to explore my passion for international politics and the human mind," he says. "Plus, I got to engage in both quantitative and qualitative research."
Derek worked on a survey of presidential electors, helping to brainstorm questions and conducting meticulous research to identify voters and addresses. "The administrative work wasn't always the most glorious thing in the world, but it was fundamental to the project," he says. "Every little decision you make can impact the overall quality of the poll, so it's important that the work you are doing is immaculate."
Other activities that Derek participated in included Student Senate, where he planned to first ever Siblings Weekend at ONU; teaching English for a summer in South Korea; playing on the ONU men's lacrosse team; and being active in the Phi Mu Delta fraternity. He also received numerous honors, including the DeBow Freed Award and the Newman Civic Engagement Award.
After graduating from ONU, Derek received a master's degree from the University of Chicago. He is currently working at the University of Chicago as assistant director of the Career Advancement Office. His advice to prospective ONU students:
UNDERSTAND THAT IN ORDER TO MOVE FORWARD, YOU NEED TO CHALLENGE YOURSELF. PICK UP THAT EXTRA MAJOR, TAKE THAT DIFFICULT COURSE OR START YOUR OWN RESEARCH PROJECT. ONLY THROUGH TAKING A RISK CAN YOU REAP A REWARD."