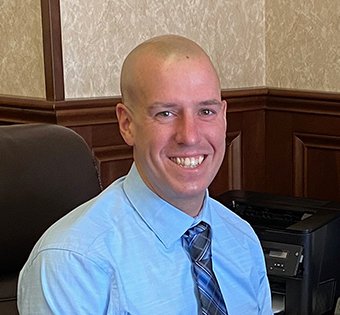 Scholarships enabled this teacher and father of four to pursue his dream of law school
Dan Gudorf grew up in a family of teachers, so it seemed like a natural step for him to become a teacher too. Yet Dan also had a deep interest in the law, and that interest didn't diminish even after 12 years of teaching high school math. When the pandemic shut everything down in 2020, Dan decided to finally follow his dream and go to law school. 
"When I first thought about going to law school, I considered a few schools. However, I instantly found myself wanting to go back to ONU," he says. "My wife and I both received our undergraduate degrees at ONU, and we have nothing but fond memories from our time there. I went for a visit and met some of the law faculty, and I instantly knew that they would do their best to help me succeed. It was an easy choice."
Scholarship support from ONU was invaluable in enabling Dan to afford to further his education and make a career change. Dan received the Carroll E. Sammetinger Law Scholarship, established by Audrey Sammetinger in memory of her husband, Carroll, JD '49. He also received the Walter L. and Helen W. White Law Scholarship, established by Walter L. White, BA '41, JD '48, Hon.D. '00, as a memorial to his late wife.
"I have a wife and four daughters between the ages of 4 and 12. Without my scholarship money, I would not have been able to give up my teaching career to pursue my goal of becoming a lawyer. Once I saw how much I was receiving in scholarships, I knew that there was no excuse for me not to attend law school," he says. "My family and I are incredibly appreciative" of the donors who set up these scholarships so many years ago.
After he graduates and passes the Ohio state bar, Dan plans to practice law in his hometown of Celina, Ohio. "I want to work both in and out of the courtroom to help my community," he says. "I know these people and their problems. I plan on doing mostly general practice, with an emphasis on criminal law. I believe everyone deserves fair representation, and I plan on doing my best to provide that."