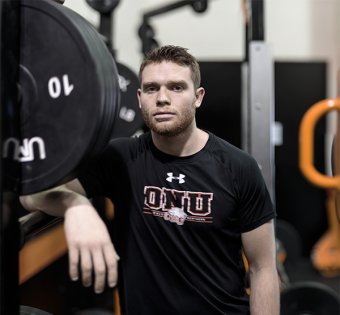 Even though exercise physiology major Corey Briggs chose Ohio Northern's small, remote campus for his college home, it didn't hold him back from chasing his dreams on the West Coast.
Briggs' No. 1 dream was to become a strength and conditioning coach for a Division I college football team, and he realized just how attainable that dream was thanks to an incredible opportunity he made happen – spending the summer as a strength and conditioning intern for the University of Oregon football team.
The internship came about after Briggs spent months researching esteemed football programs and networking with coaches from across the country. The opportunity was unprecedented, and the preparation Briggs received through ONU's strength and conditioning program gave him the perfect foundation to work from.
In Oregon, Briggs learned that perfection was essential to running a nationally competitive football program. His supervising coaches had extremely high expectations for him, but they also understood that making mistakes was an important part of the learning process, too.
As an intern, he was actually filmed while he coached players, and his supervising coaches would go over this film to point out mistakes he should correct or ways he could improve. They gave him tons of constructive criticism, but they also gave him a goldmine of valuable advice.
The experience taught him that being a first-rate strength and conditioning coach is not for the faint of heart. You have to be able to handle pressure, take challenges in stride, and learn and grow from your mistakes. But in the end, the payoff is always worth it.
"The cool thing was just every little attention to detail, and every little attention to detail matters," he says about the experience. "Everything was about perfection. If a coach walked out and there was something out of place or you weren't doing something right, he would let you know about it. And for those guys to be able to help you out – the little details of every little thing that you had to learn made you a better person."