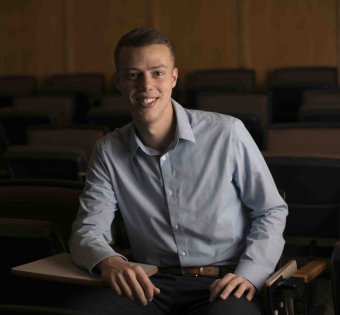 When accounting major Chris Garbig first looked at colleges, he wasn't sure what he wanted to do with his life. That all changed when he became a Polar Bear.
Originally an undecided business major, Garbig found guidance in the form of his accounting professor, Matt Phillips. Phillips saw a lot of potential in Garbig, so he persistently encouraged Garbig to join the accounting program. Garbig was particularly impressed by Phillips' level of investment in him when the pair had a two-hour conversation regarding Garbig's career choice over a holiday break. After that, he decided to give accounting a try.
Garbig's career blossomed. He completed not one, but two internships, the second of which resulted in a full-time job offer he accepted just before his senior year. He credits his success, in part, to the faculty and staff that took such an interest in him.
"Everyone is so invested in seeing you succeed and wanting to see you do well after you graduate," he says. "The faculty and staff at ONU really set you up for success, and they want to see you succeed and get a job that you are excited about. There's a tremendous amount of support behind you."