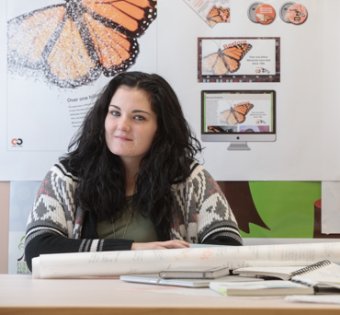 Graphic design major Cathy Jenks has an eye for creative design, and she also has a huge heart for helping others. It wasn't until she came to ONU that she figured out she could build a career combining both passions.
Many of the design projects she's done are geared toward the local area around Ada, Ohio, and she loves this because it gives her a chance to help those near her and bring people together as a community through her work as a designer.
Cathy's work has been nationally recognized, too. Her senior year, she received an American Graphic Design Award from Graphic Design USA for a project called "Restore." The project was created for her persuasive design class as a theoretical collaboration with the Toledo Zoo to educate people on the harmful effects agriculture can have on the monarch butterfly population. The American Graphic Design Award is only given to the top 10 percent of the competition's nearly 10,000 entries each year.
In addition, Cathy received an honorable mention for a poster she submitted to the University & College Designers Association's (UCDA) "Design for Education" student poster design competition. Her poster helped demonstrate that university designers and design educators can make a powerful impact in the world.
She also helped bring her own program closer together by planning and executing a family day event for the ONU Department of Art and Design. Along with her friend Emily Fergus, she was able to plan an event that brought more awareness to the department and allowed students to bring their siblings and family to enjoy a variety of crafts. 
"I'm proud to be an ONU student because I have seen how students and the campus community can come together," she says. "I think that being a Polar Bear allows for students to find their true selves and gives students the opportunities they may not have had anywhere else."