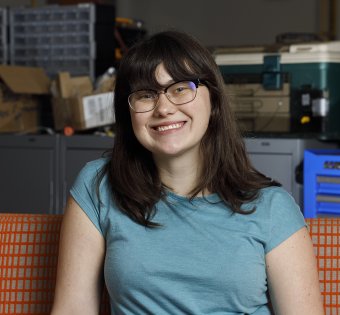 Cassie Stuber, an electrical engineering major with a concentration in advanced energy and a minor in business administration, has always had an interest in STEM, and she discovered that Ohio Northern University held the key to not only an excellent engineering education, but opportunities outside the classroom that enhance that education.
"The engineering college has great professors that have great connections and there are engineering clubs where you will find great friends and have memorable experiences," she says. "ONU engineering goes beyond the classroom."  
At ONU, Cassie has combined her affinity for math with a growing passion for the environment by exploring the career field of energy. Through networking, she's discovered that there is high demand for this line of work, and she's gained high-impact learning experience through an internship with Plug Smart, in which she assisted with configuring and installing HVAC controllers and replacing inefficient systems. Her plan for after graduation is to perform energy audits for businesses and show/provide energy saving alternatives.
Apart from engineering, Cassie has also taken advantage of opportunities to connect with others across campus through things like Ultimate Frisbee, Amnesty International and Residence Life. All of these things have made her experience at ONU even better than she imagined.
On how she feels about ONU, Stuber says, "I didn't realize all the opportunities ONU had until I came to campus, but I have found ONU to be the best fit for me because of its amazing engineering professors, job fairs and overwhelming opportunities to grow as a person and make lasting relationships."
Learn more about the T.J. Smull College of Engineering at https://www.onu.edu/college-engineering.