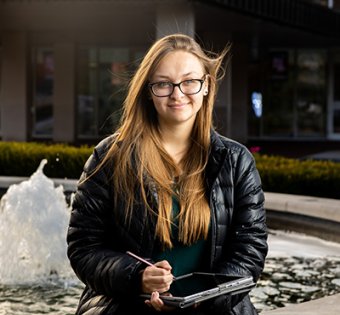 At several points in her college journey, pharmacy major Carrie Freed has been pleasantly surprised. She had a vision of what her experience might be like at ONU, but what actually happened was better than she could have imagined.
When Carrie was first searching for colleges, Ohio Northern wasn't even on her radar. She had job shadowed a family friend who worked as a pharmacist and also happened to be an ONU alumnus. He mentioned Ohio Northern and suggested that she check it out, so she booked a campus visit. A year-and-a-half later, she was starting at ONU as a freshman.
One word characterizes the experience that awaited her – unexpected.
"I really didn't expect the environment that I have with my classmates. We build each other up and help each other out instead of competing against each other," she says. "I also didn't expect to have the close kind of relationships that I have with my professors from a school with a pharmacy class size of 130. They know my name, I know theirs, and I know I can always count on them when I need help."
Aside from academics, there were plenty of other surprises in store.
Carrie has been passionate about art for as long as she can remember. She creates both traditional and digital art, and her favorite medium is handwriting and calligraphy. Between her studies and many extracurricular activities, she sometimes sketches scenic views of campus. It was one of these sketches that actually led to her working in ONU's Office of Communications and Marketing, where she creates drawings and animations used on ONU's social media channels.
She also spent a month studying abroad in South Korea, where she earned class credit, overcame the language barrier and learned so much about different cultures. The experience also gave her a new perspective on her own life and culture.
In addition, Carrie found a way to integrate her flair for business into her studies with minors in business administration and entrepreneurship. She hopes to build a career that incorporates both pharmacy and business.
As for what the future holds for Carrie, she's got a few ideas – opening up her own pharmacy, being involved with hospital administration or joining a pharmaceutical company – but just like with her ONU experience, she's more than game for something unexpected.