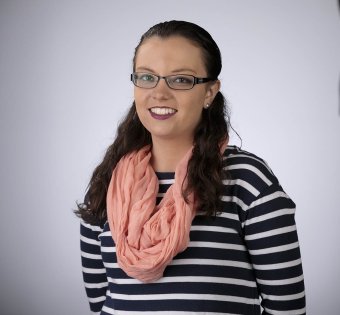 For early childhood education major Caitlin Silva, time spent in a classroom with young students is always immensely valuable, but a unique internship helped her realize just how much she could learn about education from outside a classroom setting.
The summer before her senior year, Caitlin seized an opportunity to complete a summer internship with the Inquiry-Based Learning Institute (IBL), a local nonprofit organization seeking to inspire educators with new teaching strategies utilizing critical-thinking and problem-solving skills. The organization needed a fresh new start, and her role as an intern was to help revive IBL and strengthen the educational value of the programs it offers. This involved developing content for, soliciting attendance to and helping put on professional development workshops for more than 70 K-12 educators over the summer.
Going into the internship, she hit the ground running, and every day had something new in store. She did everything from creating a social media presence for IBL to meeting with school administrators to grant writing, a skill she found especially valuable as a future educator since grants are how many schools and teachers fund special projects for their students.
The experience was very different than anything she'd done before and certainly different than teaching, but it gave her firsthand practice in several new skills that are hard to come by in a traditional classroom.
"This internship was a very valuable experience," she says. "I was able to learn many new skills, meet many influential educators across Ohio and see a different aspect of the field of education. Schools are the main avenue for education majors, but there are many people working behind the scenes to make sure teachers have everything they need to educate students, and one such category these individuals fall into is professional development for educators."