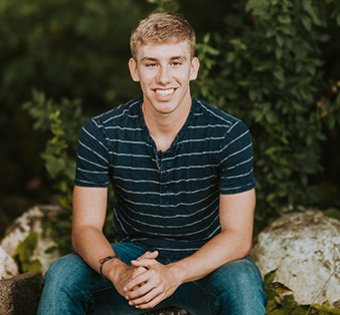 Having grown up in Ada, Ohio, it's no surprise that biology/pre-med major Cade Mullins feels so at home at Ohio Northern University. But prior to enrolling, even he couldn't fully anticipate just how much his life would change for the better by becoming a Polar Bear.
From a very young age, Cade knew he wanted to become a doctor, and Ohio Northern is already making his dream a reality. Through an articulation agreement between ONU and Lake Erie College of Osteopathic Medicine, Cade has been accepted into medical school as part of the LECOM Early Acceptance Program, and he is simultaneously enrolled at both schools. ONU has provided him with the tools, skills and opportunities he has needed to reach his goals.
"The biology program has allowed me to gain an appreciation and interest in all life, not just human life, acquire a better understanding of fundamental concepts, and develop individual relationships with professors that many students will be hard pressed to find elsewhere," he says.
One particularly valuable hands-on learning experience for Cade was participating in the Polar Research Experience in Molecular Biology (PREP-MB) program, an on-campus summer research program designed for students seeking careers in biology laboratories or planning to continue their research experiences at another university after graduation. For five weeks, he stepped into the shoes of a professional researcher, working full-time in the lab five days a week alongside two other students. He was responsible for his own data, equipment and the reporting of the data he was collecting. At the conclusion of the program, he reflected on the experience by completing a poster presentation and a research paper.
"This was incredibly helpful in gaining experience in laboratory techniques, but also to make a step towards opening the door for other opportunities elsewhere," he says. "Research Experiences for Undergraduates (REUs) and publications are incredibly valuable to students applying to graduate programs or, in my case, medical schools."
Cade also stays involved outside of the classroom as a member of the ONU men's tennis team and the Getty College of Arts & Sciences Student Advisory Board.