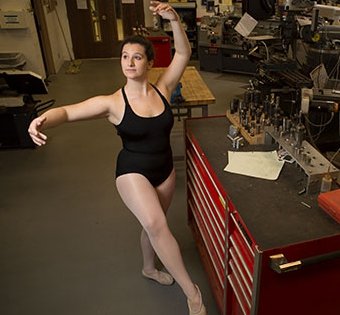 Bella Balzano was in for a pleasant surprise when she visited Ohio Northern for the first time. Similar to other universities, she toured the campus and met with professors, but what she didn't expect was the immediate interest the professors took in her passions, dreams and expectations of the engineering program. "The reason I am a student here today is because Ohio Northern has great character and truly invests in its students." 
Since that day, Bella has joined multiple organizations on campus, including the Baja SAE (Society of Automotive Engineers) team, a global competition that challenges students to build, innovate and test all-terrain racing vehicles; the Society of Women Engineers; the Joint Engineering Council; and Dean's Team, which gives students an opportunity to shape the college and welcome prospective students.
Although Bella is pursuing a career in engineering, she hasn't forgot about her first true love, dance. Ohio Northern provided her with the opportunity to be part of a successful engineering program and add a dance minor to her resume. She knew Ohio Northern was the right fit for her, but it was made even more clear when she realized Ohio Northern was a place she could combine her academic dreams with her passions outside of the classroom.
Through her involvement on campus, Bella is certain she wants to impact the medical field as an engineer. ONU has given her the skills, tools and opportunities needed to complete a co-op program and a year of experience working for a medical device company. Bella is one step closer to reaching her goal. "I am proud to be part of a university that prides itself on personal connections tied with academic excellence."