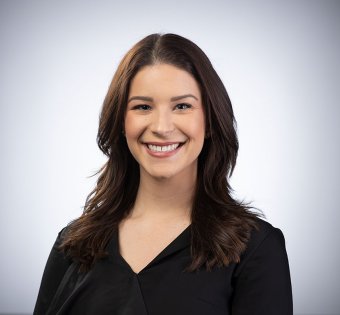 As a high school student in San Diego, Calif., Athena Triglia knew for certain that she wanted to study pharmacy in college. Where she would study, however, wasn't as clear. With roughly 140 accredited pharmacy schools in the U.S., she certainly had options. So, she did what any budding scientist would do; she did her research. That research led her to ONU's Raabe College of Pharmacy, where she hasn't stopped researching since.
Triglia first teamed up with Dr. David Koh working with human melanoma cells to analyze pathways of cell death, determine their responses to antifungal agents and determine protein signaling mechanisms associated with such treatments. She also worked on an independent study focused on pharmacy practice research under the supervision of Dr. Michelle Musser. She analyzed outreach and service-learning data to study the impact of experiential education on PharmD candidates at ONU. In addition, she participated in the creation of a protocol for the completion of virtual medication reconciliations with patients at an OhioHealth primary care office.
Her independent study afforded her an opportunity to present at the 2020 Ohio Pharmacists Association (OPA) annual conference. Her poster titled "Pre/Post Assessment of Student Perceptions of Student Learning" analyzed pre-assessment data from third-year pharmacy students who engaged in outreach activities and compared it to post-assessment data of fifth-year pharmacy students who had concluded their outreach experience. This analysis offered insights into overall outreach experience perceptions, student awareness of patient health care needs and students' ability to navigate difficult situations out in the field.
"Research, most importantly, has taught me patience," says Triglia. "It is so important to understand that not all things provide immediate rewards, and the most rewarding things take time. I believe that this understanding strengthened my passion for pharmacy and my understanding of overall patient care."
In addition to her active participation in research activities, Triglia is also the editor-in-chief of the Pharmacy and Wellness (PAW) Review. She started contributing to the PAW Review in 2019 with studies on "Electronic Cigarette Use in Adolescents and Young Adults" and "Drug-Causing Kidney Stones," before assuming a leadership role in her fifth year. If it seems like a lot, it's because it is. But Triglia knows that research experience not only helps her better understand the concepts she's learning in class, gain high-impact experience and develop her leadership skills, it's also crucial to her attaining her post-graduation goal of matching into a two-year specialized hospital residency program through the ASHP Residency Match Program.
"The residency match program is a very competitive process that requires extensive applications and résumé requirements. Participating in research at the collegiate level is an excellent way to stand out against other applicants," she says.
Triglia says that choosing ONU's pharmacy program was the best decision she's ever made. She credits the welcoming atmosphere with helping assuage the fears she had as a California kid moving across the country to rural Ohio. She's met enthusiastic faculty who have fueled her natural desire to pose new questions and find the answers to them through rigorous application of the scientific method. She's made lifelong friends among her peers inside and outside of the pharmacy program. In short, all her research paid off.