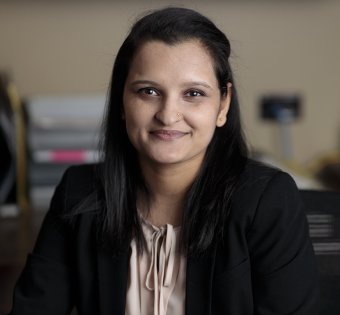 Management major Anita Neupane has found Ohio Northern University to be the connecting bridge between a long-held dream and a career doing what she loves.
Originally from Bhaktapur, Nepal, Anita began her college studies years ago, but she wasn't able to finish because she married and moved to the United States with her husband. After her husband earned his Ph.D., he got a job as a professor at Ohio Northern. This provided her with an opportunity to complete her business degree.
"After joining ONU, I again started seeing the dream which I had earlier," she says. "I am so thankful to my husband and ONU for letting me see the dream again."
But what Anita found at ONU was more than simply a path to a degree; she uncovered connections and high-impact learning opportunities she never thought she would have. She joined the Student Investment Group and learned how to manage a portfolio, awakening a passion for investment in the U.S. stock market. She also joined Sigma Iota Epsilon, the honorary and professional management fraternity of the Academy of Management.
In addition, Anita became an intern for ONU's Office of Communications and Marketing, where she has helped with a variety of special projects from market research to digital asset management. She's developed strong working relationships and brought value to the communications and marketing team, and her experience as an intern will make her resume stand out post-graduation.
Ohio Northern's high placement rate is another reassuring factor that her degree will bring her dream of working professionally for a university or a bank within reach.
I WOULD SAY ONU IS THE BEST COLLEGE FOR STUDYING BUSINESS BECAUSE 96 PERCENT OF STUDENTS HAVE BEEN OFFERED JOBS AFTER GRADUATION," SHE SAYS. "IT GIVES OPPORTUNITIES TO EVERY STUDENT TO MAKE CONNECTIONS WITH THE PROFESSIONALS IN THEIR FIELD, WHICH WILL BE A PLUS POINT IN FINDING A JOB."