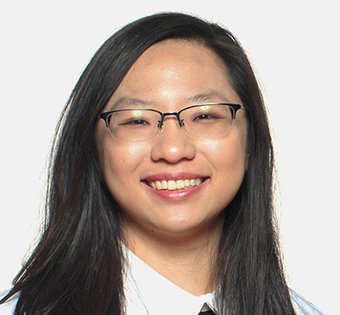 Pharmacy major Anh Luu has been involved with research since late in her first year at ONU, and has worked on three different research projects alongside ONU professors. It all started with just one simple question: Why not?
Anh became initially involved with research after attending a research poster showcase in the Raabe College of Pharmacy, which introduced her to different research projects by faculty. She then joined Dr. Sophocles Chrissobolis' research team, where she assisted with studying the effects of the Regulator of G-Protein signaling on certain bodily functions and behavior.
For her second project, she helped design and conduct a study on reaction time in esports competitors, football players and non-competitive peers in response to visual, auditory and tactile stimulations. This research resulted in her co-authoring a pending publication with The Ohio Journal of Science, along with her faculty advisors, Dr. Vicki Motz and Dr. Rema Suniga. Most recently, she is working with Dr. Mark Olah on studying endothelial cells and the ACE-II enzyme in hypoxic conditions.
The research projects Anh has helped with encompass a variety of topics, and she's learned something unique from each one. "Throughout the years, all my advisors have been nothing but tremendously helpful and inspiring," she notes.
After graduation, Anh wants to be involved in research in some capacity when she begins her career in pharmacy. Her research experiences have also changed the way she views the world around her.
"In a way, it's made my classes more interesting, now that I see how different and seemingly unrelated concepts connect to each other," she says. "I've also grown in the way I think, write and work in a team. I also realized that asking What if? and finding out is a pretty exciting process."