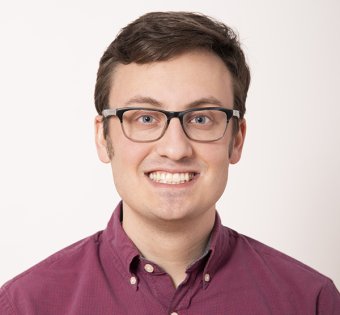 Andrew Kremyar divides his time between the classroom, lab and therapy sessions at Kent State University. As a doctoral student in clinical psychology, he's already making an impact. "Providing others with new psychological skills or perspectives to better manage their mental health difficulties or improve their quality of life gives me a great sense of fulfillment," he says.
Kremyar didn't become a psychology major until midway through his college career at Ohio Northern. Majoring in communication studies with minors in music and arts administration, he couldn't shake a growing interest in psychotherapy, so he added a psychology major with a concentration in clinical and counseling psychology. 
His psychology professors helped him figure out a way to fit in the extra courses for his additional major. They even assisted him with grad school applications. "The individualized attention from professors, along with their personal investment in students, really sets ONU apart from other schools," he says.
Kremyar recalls the many "amazing experiences" he had at ONU, from working as a research assistant in Dr. Ann Johnson's developmental psychopathology lab to his travels nationally and internationally with ONU's Marching Band and Wind Ensemble. ONU prepared him well for his future studies at Ball State University where he earned his M.A. and at Kent State where he earned his doctorate.
At Kent State, he is assisting with research related to the Minnesota Multiphasic Personality Inventory (MMPI), one of the world's most commonly used measures of personality and psychopathology. As a psychology extern, he also sees clients for individual therapy every week, runs a coping skills-based therapy group and performs diagnostic assessments.
"I chose psychology because it is so versatile," he says. "Taking courses to understand human behavior can give you skills that are applicable to a number of jobs, like social worker, mental health counselor, data manager, lawyer, behavior analyst, doctor, neuropsychologist, teacher--the list goes on and on."