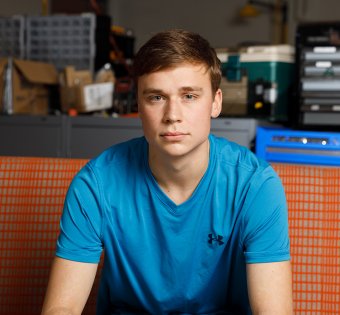 Civil engineering major Andrew Bergmann came to Ohio Northern for its closeness to home, small-school feel and the opportunities to do activities outside of classwork. He was drawn to ONU for its engineering program. "I chose civil engineering because when I was deciding a major, I didn't really know what I wanted to do, but I was interested in all of the things that civil engineering entailed," he says, "so I decided to go with that since if all the slices look good, why not eat the whole pie?"
Outside of engineering, Andrew has participated in many extracurricular activities, giving him the opportunity to meet and have fun with people on and off campus. He's involved with the ONU Marching Band, Concrete Canoe, Religious Life and the Engineering Dean's Team.
"ONU has given me many unique opportunities that I don't think I could get anywhere else due to the passionate people that work here that want students to succeed over anything else," he says. "The fact that I can talk to any professor about a problem I am having and not think twice about whether or not they are working with me is something truly amazing that ONU offers all of its students."
After college, Andrew plans to pursue a Professional Engineering License and pick up work in Ohio.
One of his most memorable moments at ONU was when the Concrete Canoe team went to the University of Michigan in April 2019. "I got to see a different school and meet new people, and I gave a presentation about ethics and got third place overall. And while we didn't get to sail 'Corncrete' (the canoe), we still had a blast."
On why he feels proud to be an ONU student, he says, "ONU is a great school with great people and great ideas, I am just proud to be a part of shaping it in today's day and age to become the best school it can be for the students who go here."