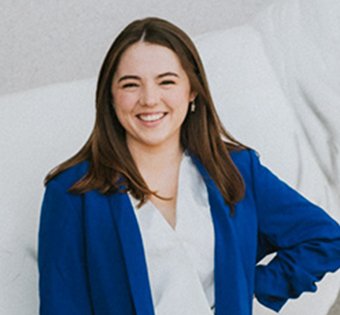 In a college career jam-packed with amazing opportunities, one stands out for public relations, communications and marketing triple major Alyson Hoffman. "To be invited to interview the first female President in Ohio Northern's history will be one of my favorite moments during my time at ONU," she says. 
Dr. Melissa Baumann took the helm as ONU's 12th president on July 1. This spring, Alyson was selected to interview Dr. Baumann on camera for a video to introduce her to the campus community. Alyson prepped for the interview by learning all she could about Dr. Baumann's previous leadership positions at Xavier University, Auburn University  and Michigan State University. "I wanted to  create a welcoming environment so that she could share her story and experience," she says. "I wanted her to have the opportunity to build credibility right at the beginning of her tenure with the ONU community."
Being the interviewer instead of the interviewee was a welcome change for Alyson, who has had years of experience on the other side. Alyson and her twin sister, Andrea, also an ONU student, have cystic fibrosis (CF). As an outspoken advocate at the local, state and federal level for children and adults with medical handicaps, Alyson has engaged in many interviews with media outlets regarding her experiences with CF.
In a Lima News op-ed, the"Hoffman twins," as they are known across campus, wrote: "On the outside, we look like any other college students; however, on the inside and behind the scenes, a daily battle is being waged against this life-limiting disease, from which we both suffer, primarily affecting the lungs, the digestive system and other major organs in our bodies."
Alyson doesn't let her disease define her. She is upbeat, energetic and people-focused, in spite of her having to live the realities of CF which requires constant vigilance and daily treatments and medications.
At Northern, she has served as a resident assistant and the social media coordinator for the Good News Bears. She's participated in the President's Club and the student-run PR firm True North. Active in PRSSA, she has served as the vice president of members services on the PRSSA National Committee, working with committee members across the U.S. to lead the society and creative initiatives to grow membership. She has also engaged in two summer internships, working at both Fahlgren Mortine and Cardinal Health. Alyson was also recently elected as president and chosen to lead the National PRSSA into the 2022-23 school year.
"ONU has accelerated all my passions to the next level," she says. "I've had the opportunity to meet so many amazing people, learned so much inside and outside the classroom, and set myself up for success after college. I've truly valued every moment of my ONU experience." 
Interviewing Dr. Baumann was icing on the cake. "Truly it was a once-in-a-lifetime opportunity and a testament to the real-life experiences ONU offers to all of its students," she says, adding that the interview left her deeply impressed by the University's new president. "She has a contagious spirit that leaves a great first impression. I can't wait to see the difference she will make at ONU."  The same can be said for Alyson, she is a future PR/communications professional who undoubtedly will make a difference wherever she lands.