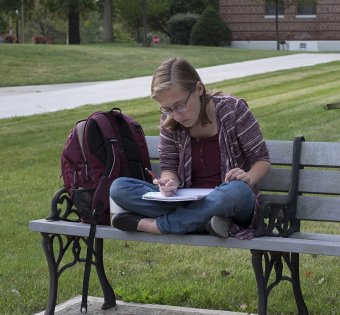 Allison Young has always been fascinated with storytelling and all things creative. When she first came to ONU, she knew what she was passionate about, and the opportunities she has had as a creative writing and professional writing major have helped her gather a more defined vision of what her future career could look like.
During her college search, Allison was able to meet with faculty and students from ONU's English program to discuss what and how she would be learning as a creative writing major. "This discussion really helped me feel excited about learning at ONU, and since going to school at ONU, that excitement has only grown over time," she says.
Allison is heavily involved with Polaris, a professional literary journal produced annually by the ONU English department, and currently serves as its poetry editor. She is involved at every stage of the process, from choosing submissions to copyediting, and her favorite is reading and discussing the creative writing submissions from undergraduate students. Her experience with Polaris has inspired her interest in working within the publishing industry, which is what she hopes to do after graduating from ONU.
She has also gained real-world experience through student employment at ONU. Working as both a writing tutor and a book manuscript copyeditor, she has improved her writing and editing skills, and gained professional experience that has given her a better sense of what a career in editing is like.
Allison's favorite aspects of the ONU English program are the collaborative nature of its community and the unique opportunities available to students. She has attended conferences; met with individuals with careers in writing, literature and education; and worked with her peers in frequent writing workshops. Overall, she's found that these experiences have helped her develop a close-knit community that supports her development as a writer every step of her college experience.
I KNEW FROM A PRETTY YOUNG AGE THAT I WANTED TO DO SOMETHING WITH WRITING AND STORYTELLING, BUT MY EXPERIENCE WITH ONU HAS REALLY SOLIDIFIED WHAT THAT MIGHT ACTUALLY LOOK LIKE IN PRACTICE. WRITING AND MANY CREATIVE FIELDS DON'T ALWAYS HAVE A DIRECT PATH IN THE WAY THAT OTHER MAJORS DO. MY EXPERIENCE IN THE ENGLISH PROGRAM AT ONU HAS HELPED ME TO DISCOVER JUST HOW MANY DIFFERENT CAREERS THERE ARE FOR WRITERS, AND HOW ONE MIGHT GO ABOUT PURSUING THEM."