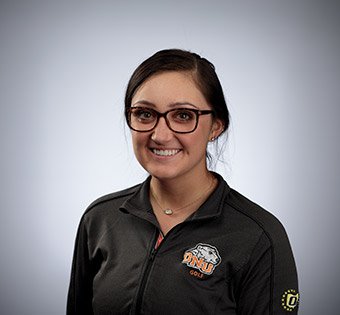 Discovering unexpected big opportunities
Alexis Miller had zero interest in attending Ohio Northern University. Having grown up in a small town, she longed for the bright lights of a large urban university. But when ONU offered her the best financial assistance package for pharmacy school, she reluctantly set aside her big city dreams and enrolled. 
During her first semester, to her great surprise, she fell in love with Northern. The pharmacy major and Spanish minor discovered that the small-town University had a big heart and even bigger opportunities. "I now know that I couldn't have picked a better university," she says. "The opportunities that were awarded to me at ONU, I never would have had at the bigger schools I was looking at. I think living in a rural area pushed me to become much more involved on campus than I would have been in a city."
Instead of staying in a "pharmacy bubble," Miller felt encouraged to pursue her diverse interests. "Especially at a small school, you get to wear numerous hats, and you can grow as a multifaceted scholar and leader," she explains.
Involved in more than a dozen organizations, she played varsity women's golf, served on the Student Senate, and became an Orientation Leader, just to name a few. She also joined the Ohio National Guard where she was pinned Sergeant (a non-commissioned officer) in the Army before three years of service, which is not common and a testament to her exceptional professionalism.
Juggling the challenges of pharmacy school with the National Guard meant she had to miss numerous school days—and even exams—due to military training. "My professors were incredibly understanding," she says. "They were there to support me and ensure I was on par to finish and be just as successful as my classmates who were not on the same track as I was."
Approaching graduation, Miller is beyond grateful that she came to ONU. And she may yet realize her big city dreams. ONU's academic reputation and her well-rounded resume is opening doors for her to some incredible pharmacy residencies on the East Coast. 
"I feel competitive against candidates from big schools," she says, "as the Ohio Northern name is recognized as a longstanding, quality pharmacy school. I never really imagined as I looked for a pharmacy career in a Northeastern city, over a thousand miles away, that the reputation of Ohio Northern would follow me and be a great assistance."