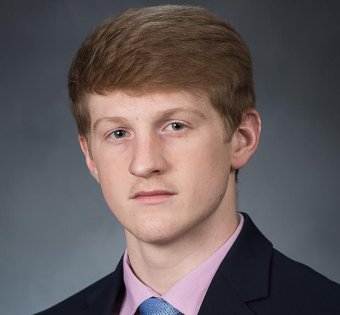 Ohio Northern University has been an ideal place for construction management major Adam Lenhoff to combine his competitive spirit with his natural interests, while also gaining experience in a field of study that complements his personal strengths.
During his college search, Adam found ONU to be his top choice for multiple reasons. At ONU, he could continue wrestling, which likely wouldn't be possible at a larger school, while also studying his chosen career field of construction management. He also loved how ONU faculty care deeply about their students and want to help them succeed.
One of Adam's biggest passions is competing and striving to be the best, and at ONU, he gets ample opportunity to shine. As a member of the wrestling team, he competes in a sport he loves alongside his teammates, who are some of his best friends. He also participates in multiple competitions year-round, such as construction estimating competitions, giving him considerable hands-on learning experience. In his junior year, he received the Builders Exchange of Central Ohio Scholarship for outstanding classroom performance along with his participation in off-campus activities.
In addition, Adam's time at ONU has affirmed that construction management is indeed the right career path for him. Growing up, he thought about becoming an engineer, but after getting his feet wet in construction management, he found it to be a good balance between office work and field work. The competitions and real-world projects he's worked on through the program have also prepared him for success post-graduation.
Outside of athletics and academics, Adam is also very active in the Northern Christian Fellowship, which gives him an outlet to grow in his faith alongside others at ONU.
Every part of Adam's experience at ONU has been underscored by the genuine, close-knit relationships he's made. In fact, to prospective students considering ONU, he offers these words:
COME SEE ANY OF THE PROFESSORS HERE. THEY SAY WE ARE A FAMILY, AND THEY WILL PROVE TO YOU THAT THEY REALLY CARE FOR YOU LIKE FAMILY. YOU SIMPLY WILL NOT FIND PROFESSORS THAT CARE FOR EACH INDIVIDUAL STUDENT LIKE THEY DO IN A LARGE UNIVERSITY – THE VERY REASON I CHOSE IT HERE."