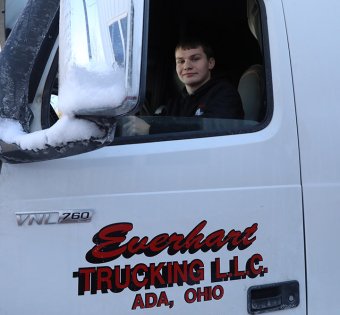 Criminal justice major Aaron Everhart is a hometown guy, having grown up in Ada, Ohio. That was part of the reason he chose Ohio Northern – it really was home. That said, being involved in the production of a Super Bowl commercial wasn't something he ever expected to happen to him, let alone through his Ada and Ohio Northern connections.
Through his family's business, Everhart Trucking LLC, Aaron was presented with the opportunity to operate a truck used in the filming of a CBS Super Bowl pregame commercial filmed just down the road from ONU's campus at the Wilson Football Factory.
Although Aaron didn't appear on camera, he played a behind-the-scenes role in shooting the final scene of the commercial. He drove the truck to the filming site, maneuvered the truck to a suitable position for filming, tended the vehicle during filming and, in the final frame of the commercial, was behind the wheel when the truck pulled away.
He even got to interact with NFL quarterback Russell Wilson, the star of the commercial, during filming. The most ironic part was when Wilson had to act as if he were alone in the truck cab, even though Aaron was sitting right beside him. 
"The crew didn't shoot that scene all in one segment, so at first, when they were shooting at the side-window, I was in the driver's seat," he says. "When Wilson turns and looks and no one's there, the six or seven times they shot it, he just kept staring at me."
The whole experience was somewhat surreal for Aaron, and when he finally saw the finished commercial, he had to keep reminding himself, "I was there." He was actually one of two ONU football players involved in the commercial. Although the opportunity was completely unexpected, it cemented a memory involving ONU that he will never forget.
"It doesn't matter that we're in the middle of a cornfield, you can still have those connections," he says. "You never know what you're going to get."