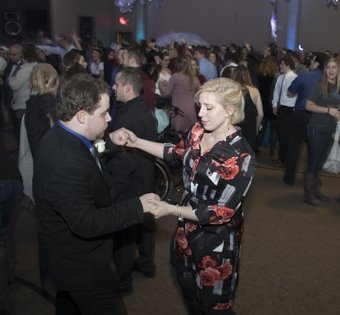 Nursing student Nicky Michalek has a heart to serve.
A sister of Kappa Alpha Theta sorority, Michalek was able to help give one lucky person the time of his life at the Lima area's Night to Shine, a special worldwide event meant to celebrate those with special needs by giving them the classic prom experience. She acted as a "buddy," escorting one of the guests to the dance.
From the minute she walked through the door, Michalek was blown away by the jubilant atmosphere and elaborate decorations set up for Night to Shine. She even thought it was set up better than her own high school prom.
But the most rewarding part of the experience for her was seeing how much fun her "buddy" Ben was having. She was especially touched when she got to meet Ben's family. She could just tell that they were so happy for their son, and they even took the time to express their gratitude to her for coming to help with the event.
"By the end of the evening, it didn't even feel like I was doing community service," Michalek says. "The whole event was just one big celebration, and I was honored that I could be a part of it."