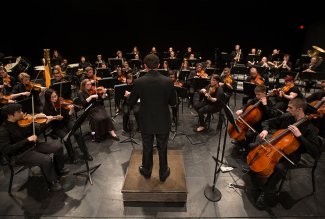 The Ohio Northern University Department of Music presents "Gaudete: The It's Not Quite Christmas Yet" concert, performed by the ONU wind and symphony orchestras, in the Freed Center for the Performing Arts on Saturday, Dec. 12, at 7:30 p.m.
The program begins with the ONU Wind Orchestra under the direction of Dr. Thomas Hunt. The group will present four pieces: Alfred Reed's "Alleluia! Laudamus Te" and "Russian Christmas Music"; John Paynter's arrangement of J.S. Bach's "Toccata, Adagio and Fugue"; and Percy Grainger's "The Sussex Mummers' Christmas Carol."
Following intermission, ONU Music Director Travis Jürgens will conduct the ONU Symphony, which is scheduled to perform a selection from Tchaikovsky's "Serenade for Strings," Schubert's "Unfinished Symphony" and the Midwest premiere of a new piece, titled "David's Harp," by guest composer Devin Arrington. Arrington's music has been performed at venues ranging from Carnegie Hall in New York City to the Great Hall of the Composers in St. Petersburg, Russia. This has led to collaborations with the Grammy-nominated Cuarteto Latinoamericano and commissions from the Pittsburgh School for the Choral Arts, Westmoreland Symphony and New York Youth Symphony, among others.
Tickets are $20 for general admission, $15 for seniors, $5 for students, and $10 for ONU faculty and staff. The Freed Center box office is open Monday through Friday from noon to 5 p.m., and Saturday from 10 a.m. to 2 p.m. Phone orders are accepted with American Express, MasterCard, VISA or Discover by calling 419-772-1900. Tickets also are available online at ticketing.onu.edu.