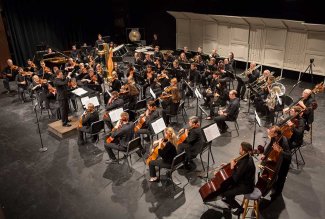 Ohio Northern University's Wind and Symphony orchestras will perform at 4 p.m. on Dec. 10 in the University's Freed Center for the Performing Arts. This program begins a year of celebration to commemorate the ONU Department of Music's 90th year.
Tickets are $20 for general admission, $15 for ONU faculty and staff, $10 for seniors, and $5 for students. The Freed Center box office is open Monday through Friday from noon to 5 p.m., and Saturday from 10 a.m. to 2 p.m. Phone orders are accepted with American Express, MasterCard, VISA or Discover by calling 419-772-1900. Tickets also are available online at ticketing.onu.edu.
The program will begin with the Wind Orchestra under the direction of Dr. Thomas Hunt. The group will present arrangements of two works by J.S. Bach: "If Thou Be Near" and "Toccata and Fugue in D Minor." Also on the program is a two-movement symphony by David Maslanka, "Give Us This Day," and Robert Longfield's "The Bells of Christmas" with narrator Phil Compton.
After intermission, Music Director Travis Jürgens will conduct the Ohio Northern University Symphony. The program will open with Shostakovich's "Festive Overture," followed by Puccini's "Capriccio Sinfonico" and then Saint-Saëns' "Piano Concerto No. 2," which will feature Noah Walter, a concerto competition winner. Walter is a junior music performance major from Findlay, Ohio.
Assistant Conductor Alexander Chapman will lead the "Mission: Impossible Theme," and the orchestra will end the program with Clint Needham's "Suburban Grooves." Needham is composer-in-residence and a music faculty member at the Baldwin Wallace University Conservatory of Music.