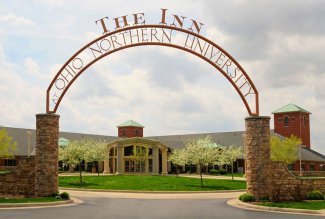 Ohio Northern University is pleased to announce an exciting collaboration with premier hospitality corporation Waterford Hotel Group for management of The Inn at Ohio Northern University beginning Monday, Jan. 18, 2021.
Waterford Hotel Group, a Connecticut-based industry leader for more than 30 years, manages 36 hotels in nine states, such as a Westin in Columbus, Ohio and a Comfort Inn in Piqua, Ohio; and on college campuses such as Amherst College, Williams College and Gettysburg College.
ONU continues to be the sole owner of The Inn, a campus landmark built in 2008 that offers 67 guest rooms, a pub, 3,000 square-feet of meeting space, a 24-hour fitness center and a courtyard garden with a furnished patio.
The University believes the management transition to the Waterford Hotel Group will facilitate profitability and visibility while sustaining customary high quality and service to customers.