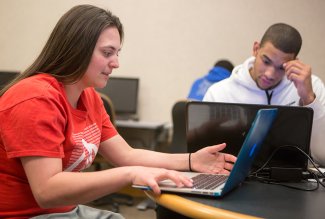 Ohio Northern University's Volunteer Income Tax Assistance (VITA) program was recently recognized by the Beta Alpha Psi national accounting and finance honorary for processing the most tax returns per member for the 2017 tax year.
The VITA program provides both community service for area residents and career preparation for Ohio Northern students.
In terms of community service, the VITA Program offers free tax help to persons who generally make $55,000 or less who need assistance in preparing their tax returns. As part of this program, ONU students receive training and become IRS-certified to help prepare basic and intermediate tax returns and identify special credits such as the Earned Income Tax Credit (EITC), Child Tax Credit and Credit for the Elderly.
It also provides invaluable practical training for students.
"Our students are able to further develop interpersonal skills, such as working with clients and communication, that support what they learn in the classroom and are valued by employers," said Dexter Woods, professor of business administration and coordinator of the ONU effort. "These types of practical learning experiences bridge the classroom and the workplace. Further, hiring someone to prepare their taxes can be cost-prohibitive for many individuals, so the VITA program provides a valuable service in that regard. In all, it is an outstanding service-learning activity."
The VITA program has been an important part of the educational experience for many students.
"Participating in this program has opened my eyes to how much tax laws mean to individuals, and it has helped me determine that I want to pursue a career path in this area and eventually work for the IRS," said David Gorman, a senior accounting major from Powell, Ohio, who graduated from Worthington Kilbourne High School. "From this experience, I was able to work directly with people from this region and understand the impact of tax laws on people's everyday lives. It was very rewarding and beneficial to be able to work directly with people and learn how to connect and communicate with them. I have worked with some individuals more than once and have developed a professional relationship with them."
Kelsey Dorfmeister, a junior accounting major from Holland, Ohio, who attended Springfield High School in Toledo, said, "Working with the VITA program has given me experience working with tax software and preparing tax returns that is important. It has also given me the opportunity to network with the community while advancing my communication skills by talking with clients and preparing their tax returns." Dorfmeister plans to pursue a master's degree in accounting and pursue forensic accounting to investigate fraud cases.
Megan Kerr, a junior accounting major from Bowling Green, Ohio, who attended Bowling Green High School, said, "Being involved with the VITA program has made me realize I enjoy doing taxes and working with clients. What I am doing is connected to a tax class I take, but it allows me to have the life experiences you cannot normally get in a 50-minute class."
Approximately 50 ONU students are involved in the program each year. The students are enrolled in ONU's Dicke College of Business Administration.
The program has grown tremendously, from 51 clients for the 2010 tax year to more than 300 clients during the 2017 tax year.
Services are provided at the Dicke College of Business Administration (Room 140), 525 S. Main Street, Ada, Ohio, on Tuesday, Wednesday and Thursday evenings from 5 p.m. to 8 p.m. through April 4. Appointments are required. To make an appointment or learn more, contact site coordinator Dexter Woods at at 419-772-2075.
Taxpayers interested in these services should bring proof of identification, tax information received for the 2018 filing year, and copies of last year's federal and state tax returns, if available.