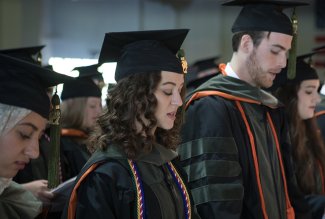 Ohio Northern University will celebrate an important milestone in the lives of its students during upcoming commencement exercises in the ONU Sports Center Field House. ONU President Daniel DiBiasio will preside over the ceremonies. The College of Pharmacy and undergraduate colleges, as well as Master of Science in Accounting (MSA) program, will hold their ceremonies on May 13, and the College of Law commencement is scheduled for May 20.
Approximately 623 students are earning their degrees from the University this academic year, including 148 from the College of Pharmacy, 388 from other undergraduate colleges and 87 from the College of Law.
COLLEGE OF PHARMACY
Raabe College of Pharmacy commencement exercises will be held at 9 a.m. on May 13. Doors will open at 7:30 a.m.
The student speaker will be Austin Hilverding of Waterford, Ohio.
The keynote speaker will be Timothy S. Tracy, a 1983 graduate of the ONU College of Pharmacy, who has had a successful career in the pharmacy industry and higher education. He is chief executive officer at Aprecia Pharmaceuticals, a unique 3-D printing drug-delivery technology company based in Cincinnati. Tracy holds two patents related to drug-delivery systems and has published more than 100 scientific manuscripts.
Prior to joining Aprecia, Tracy was provost at the University of Kentucky after serving as dean of that university's college of pharmacy. He was previously at the University of Minnesota, and he launched his academic career at West Virginia University, where he won six college-wide and one university-wide teaching award. Tracy, a registered pharmacist in Ohio, began his pharmacy career practicing in community and hospital settings throughout the state.
Tracy has published more than 15 book chapters, edited two books, and served as a principal and co-investigator on numerous NIH-funded grants. He earned a Ph.D. in clinical pharmacy from Purdue University. ONU honored Tracy with a Distinguished Alumni Award in 2016.
UNDERGRADUATE CEREMONY
The undergraduate and MSA ceremony is scheduled for 2 p.m. on May 13. Doors will open at 12:30 p.m.
The undergraduate speaker will be Courtney Cramer, a graduating business administration major from Alvada, Ohio.
Carey A. (Wurgler) Smith, a 1985 ONU graduate in electrical engineering who has more than 30 years of experience in the aerospace and defense industry, will deliver the keynote address. Smith is president of the Federal Business Unit at Parsons Corporation, a leading defense, security, engineering and infrastructure firm. In this position, she is responsible for global operations such as missile defense, cyber-physical security, intelligence, environment and infrastructure markets. The unit services the departments of Defense and Homeland Security and Federal Aviation Administration as well as the intelligence community and other federal and international customers.
Smith has been inducted into the Wash100, which recognizes leaders for outstanding performance throughout the federal government contracting industry. She also has been recognized as one of the Top 100 Corporate Women Leaders in Science, Technology, Engineering and Math (STEM), as well as a Top 100 Diverse Corporate Leaders in STEM.
Smith is a 2015 recipient of ONU's Smull College of Engineering Distinguished Alumni Award. That same year, she was the keynote speaker for ONU's Spotts Lecture Series. She earned a master's degree in electrical engineering from Syracuse University.
Honorary degrees will be presented to long-time ONU faculty members Alfred Cohoe and Terry Keiser, who are retiring.
Cohoe joined the ONU faculty in 1963 and taught a variety of psychology classes to countless students. He is renowned for engaging his students with interesting classroom experiences and real-world examples. Cohoe was named one of Ohio's outstanding educators by Ohio Magazine and received an award from the Ohio Psychological Society in recognition of his innovative teaching. A licensed psychologist, Cohoe has diagnosed thousands of patients with mental disorders. He also has testified as an expert witness in more than 300 trails related to competency and sanity. Cohoe earned a bachelor's degree in psychology from Albion College and a master's degree in social psychology from Bowling Green State University.
Keiser, a 1964 ONU graduate, joined the ONU biological sciences faculty in 1967. A proponents of hands-on learning, he shared his passion for biology with generations of ONU students. Beyond the classroom and labs, Keiser was instrumental in establishing ONU's Metzger Nature Center in Tuscarawas County and the Tidd-Oakes Farm, a 300-acre wetlands restoration project. Additionally, he served as chair of the Department of Biology and Allied Health, chair of University Council, and a special trustee on the University's Board of Trustees. Keiser also served as director of sustainability and director of the Nature Center. Keiser, who is professor of biological sciences emeritus, earned a master's degree from Bowling Green State University.
COLLEGE OF LAW CEREMONY
The Pettit College of Law commencement exercises will be held at 2 p.m. on May 20. Doors will open at 12:30 p.m.
Emily Kerber of Lima, Ohio, will be the student speaker.
The Hon. Jessica E. Price Smith, a 1997 graduate of the ONU College of Law, will deliver the keynote address. She serves as judge in the U.S. Bankruptcy Court, Northern District of Ohio.
Prior to her appointment, Price Smith was a shareholder at Brouse McDowell LPA, representing corporate debtors, creditor committees and trade creditors in commercial bankruptcy cases and out-of-court restructuring. She became the first African-American partner in the firm's history, and she was selected as an Ohio Super Lawyers Rising Star in both 2005 and 2006.
Price Smith is active in her profession and currently serves the National Conference of Bankruptcy Judges as secretary of the endowment committee. In the Northern District of Ohio Bankruptcy Court, she serves as chair of the technology committee.
She also is involved in civic endeavors, especially those focused on women and children. Price Smith serves as vice president of the Cleveland chapter of Jack and Jill of America Inc., an organization of mothers dedicated to raising the next generation of African-American leaders while enhancing the lives of all children. Her focus on issues affecting women has primarily dealt with health disparities, specifically high rates of maternal and infant mortality in the black community.
Price Smith continues to serve her alma mater and is a member of the ONU Pettit College of Law's Alumni Association Board.
For more information about our ceremonies visit the commencement website.