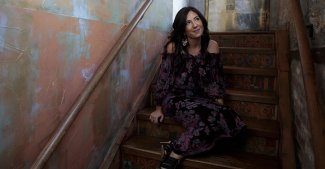 ONU ALUMNA ROSE PREVITE HAS FOLLOWED A CIRCUITOUS COURSE TO SUCCESS. AND IN THE END, THE DETOURS ALONG THE WAY ARE WHAT MADE ALL THE DIFFERENCE.
Rose Previte, BA '03, is living her best life. Her new restaurant, Maydan, is a bona fide beltway hotspot. How hot, you ask? Eater.com christened Rose and her team "The Fire Gods of Washington, D.C." for their searing take on North African and Middle Eastern cuisine. Bon Appétit went even further, naming it America's No. 2 best new restaurant in 2018. Maydan garnered a James Beard nomination, is listed as a Bib Gourmand in the esteemed Michelin Guide and was featured in Food & Wine's May 2018 "Restaurants of the Year" issue. Rose herself even graced the cover of The Washington Post's spring dining guide, which listed Maydan No. 6 on its list of the top 30 capital eateries.
It's been quite a ride, but it's a journey that began before Rose was even born.
Her Sicilian father, Peter Previte, JD '73, met her Lebanese mother, Jeanne, in Detroit, Mich., while he was a pharmacy student at Wayne State University. Rose's parents were from two very distinct food cultures, but they both loved to cook and share their culinary heritage with others. In 1968, Peter accepted a position teaching pharmacy at Ohio Northern University, far from the established Middle Eastern population of Detroit. For the next few years he would make the trip north whenever he wanted to taste the Lebanese cuisine he'd grown to love.
By 1975, Peter had earned his law degree from ONU and opened a law office in Ada, Ohio. Jeanne then made the permanent move to Ada, and together they added new flavors to their new hometown, including little Rose. As a child, the rituals of preparing and then consuming meals were integral parts of her family life. Jeanne ran a catering company out of the house and then a restaurant in Bluffton, Ohio. Peter's side hustle involved a closely guarded family recipe for Italian sausage. Working various area festivals and fairs, Rose remembers entire weekends devoted to preparing and selling these dishes.
Whereas finding ingredients for Lebanese meals presented few challenges in Detroit, Ada didn't offer easy access to things like halal meat and sumac. So, to get what Jeanne needed, the Prevites traveled the well-worn path back to Detroit. Rose looked forward to these trips, their "little treks" to see family and stock up on supplies. These monthly voyages for dishes and recipes served as a prelude to the inspiration behind Rose's later successes. She learned at a young age the importance of seeking authenticity.
After graduating from Ohio Northern in 2003 with degrees in public relations and Spanish, Rose earned a master's degree in public policy from George Mason University in Fairfax, Va. She wanted to be a lawyer like her father. She wanted to "save the world" as an immigration attorney.
But instead of saving the world, she would end up serving it.
While waiting tables in Washington, D.C., Rose met NPR journalist David Greene. They married and soon found themselves in Moscow. The couple called Russia home for three years while David was on assignment. "Three long, cold years," she groans, remembering the frigid air and snow-covered terrain that greeted her in November 2009.
Without a visa, Rose couldn't work. Without the ability to speak Russian, she found it hard to communicate. Her solution? Dress warmly, find a furry hat and explore the world.
"I was dreaming about the restaurant the whole time I was in Russia, because I wasn't really working. I was just traveling, but I started scheming the restaurant. I wasn't actively doing anything other than getting ideas together."
As her vision for what would become Compass Rose – the beltway eatery she opened on T Street in 2014 – took shape, Rose and David would reminisce about their favorite foods and memories from the 30 countries they visited over those three years.
"Memory and food were one and the same for us. We would say, 'Remember that time when we got lost in Sicily and went down that dark alley, but then we thought we were going to die but then actually found the best pizza we've ever had before?' It was stuff like that."
It seems that, inside Rose, there was always a restauranteur yearning to break free. The pieces were all there. She just broke the rules along the way.
"I'm completely nontraditional. Typically, people train to be a chef, they work in kitchens, they open a restaurant. Or they're a manager for many, many years, and they know how to run every aspect of a restaurant, and then they open their own restaurant."
Rose skipped a lot of the steps. Sure, she made snow cones for the concession stands during ONU basketball camps. ("I was a very good snow cone maker," she notes.) She sold the renowned Previte sausages during Ada's Harvest and Herb Festival. She spent two years serving at the Olive Garden in nearby Lima, Ohio. But she never wanted to be a chef. What she did want to do, however, was develop harmony through dining.
"That's kind of my philosophy. At the end of the day, I just love bringing people together. And over food and drink, I feel, is when you get people at their most real, because they're doing this very vulnerable act of eating and drinking. It's something that all cultures share. This is something that all cultures do. It's something that binds us all together."
At any given moment, diners will find between 15 and 19 countries represented on the small Compass Rose menu. Rose herself admits that this is unusual, but with an international populace like that found in D.C., this variety is part of the restaurant's success, especially when that variety includes hard-to-find dishes atypical of American establishments.
"We have a lot of regulars who work for the state department, foreign service, well-traveled people, or people who grew up somewhere else. They love coming in because it feels like a little bit of home. Or it reminds them of trips that they've been on or places they've lived. And that's the demographic of D.C. overwhelmingly. That feeling of connection is part of the success."
Maydan, opened in late 2017, is focused on the Middle East, and Rose explains that it's very important for people to understand that none of the restaurant's dishes are specific to a particular country. "This is a region. It goes beyond borders. And it's why we should all get along. And when so many of those countries don't, it's ironic, but that's kind of the statement we're trying to make."
"I think my strength is with the people, and making people feel comfortable and at home. Because when you make it feel comfortable, you make it a gathering place with friends. When you move to a new city and you don't know anybody, that can be a very hard thing to do."
Rose took a circuitous route to even get the restaurants off the ground. Both restaurants are housed in unconventional settings. Compass Rose is in a rowhouse, flanked by neighbors who initially feared she was opening a nightclub or bar.
"Yeah, I wanted to do things differently, like put a restaurant in a rowhouse. Like, no one does that. And it's very difficult actually. But I was determined that that's where it was supposed to be. So, construction was harder because it's not a traditional space."
Without endless funds, Rose did many things herself. And while great learning experiences, they were difficult. Her public policy master's degree and even some of her studies at Northern helped her obtain her own paperwork.
"A lot of people pay people to go get building permits, occupancy permits, liquor licenses. But I just did it myself, which is kind of crazy because it's really hard to do."
Maydan is housed in a challenging location, too. In the 1880s, the space served as a service center for street cars. Then, it was a printing plant. 
After that, in the 1920s, it was an industrial laundry facility. As such, the ceilings are very high and feature more than a century's worth of hardware in the rafters.
"Most people would not have looked at this thing, this mess of beams and rust, and seen an exhaust system. But I did. I can't tell you why. To this day I don't know. I just looked at it and asked the realtor if there was a hole in the roof. If this contraption I could see, if it exited on the roof, and she confirmed that it did. I was like, that's where my fire's going to go."
And that's how Maydan wound up with a fiery hearth in the center of the building. No one thought it could be done, but Rose was determined. She worked to make it completely code-compliant, and she wouldn't take "no" for an answer. It's become a huge deal and helped land Maydan on a number of "best restaurants" lists.
"But that wouldn't have happened if I had listened to people when they said it couldn't be done. So I think, for whatever reason, I like new concepts. I came at it very differently. And it's really hard to get people to believe that you can do it that way. But I finally did. I showed them."
Inside, both restaurants feature many pieces from Rose's travels. There's a lot of repurposed items, too. "Like old wood that people would have thrown away. Old materials of any kind. Old doors, old window frames. I re-use things instead of buying new, which also makes a big difference."
As a result, both places are comfortable, casual and beautiful. The interiors are as enticing as the food. Rose describes Compass Rose as a "shabby chicness" and Maydan as "a mid-century modern meets the Middle East."
"There's zero pretension. Beyond the food, beyond the drinks, the vibe in here is really cool. I think I've been successful with what I really wanted, which was bringing cool people together in a space. And there's a certain energy when you walk in to both restaurants that you can't miss. And people want to be there. It makes them feel cool; it makes them feel like they're somewhere special. And I think at the end of the day, that's what most people want. They want to be part of something. I think both restaurants are more than just restaurants."
Compass Rose's menu began during her travels while based in Russia, but it still sees tweaks, updates and revisions based on new inspirations. In early 2019, Rose took her two executive chefs and her sous chef to Mexico City for a food reconnaissance mission.
"We spent three days eating and just learning the flavors. My chefs are so much more equipped to go back and recreate the food because they've been there."
Before that, a trip to Oman and the Persian Gulf yielded three different dishes for the Maydan menu and two on the Compass Rose menu that changed the week she and her chefs returned – "while the flavors were fresh in our heads." The development of Maydan's menu also involved a culinary field trip, this time to the Middle East to consult with the real experts. Rose is Lebanese. It's the food she grew up with. But her chefs had not. So her team went on a five-country tour in preparation – to North Africa, the Middle East and then the Caucuses.
"You have to feel this food. This is soul food. You can't just read a recipe. We learned from actual grandmas in their kitchens. And that's real. And that's why it's so authentic. You don't get more real than grandma teaching you how to make these dishes. So you can tell that the meals are authentic. We don't have fancy plating. It doesn't feel fancy. It just feels real."
She met a ton of skepticism from people who thought she was too young, too female, too inexperienced. They thought she was jumping on the latest trend, that she didn't have the strength to follow through.
"Everyone was like, oh you're one of those people. Because I hadn't done it traditionally, I didn't have years of experience running a big restaurant; I wasn't a chef. People said, 'You're just one of those people who's going to go into this and think it's dreamy, and then when you see how hard it is, you're not going to make it.'"
The pushback seemed to be without end. Some chefs wouldn't work at either restaurant because the menu is very challenging. Some critics thought the flavors would clash because they're so different. Rose, herself, contended with self-doubt – and still does. But then, Rose put her heart and soul into it. Applying hard work to her vision, both Compass Rose and Maydan have become wildly successful – to the excitement and surprise of many.
"I do think that a lot of people were proven wrong at the beginning. We were really thoughtful about it. And it's been tested over time, and it's working."
Next up for Rose is a cookbook that she is in the process of writing. And, as a once-a-month visitor to Los Angeles, Calif., she's dabbling with the idea of opening a third restaurant on the West Coast.
"I have this dream of having a compass rose, a restaurant on every point of the compass. LA would be my western point." It's a fun thought experiment to envision a Rose Previte restaurant in Los Angeles. Which of her travels would be most reflected in such a space? 
Regardless of the cuisine, you can count on it being a destination restaurant – in more ways than one. It's certain to be a continuation of Rose's childhood experiences with food, the path she's followed as an adult, the journey that began in Sicily and Lebanon with stops in New Jersey and Detroit – and the launching pad of Ada, Ohio.
Indeed, the young woman who set out to save the world ended up serving it, in more ways than one. For most of the patrons of Compass Rose and Maydan, Rose Previte serves up an exotic culinary adventure full of exciting new aromas and flavors. But for the fortunate few, she serves an authentic taste of home, as vivid in memories as it is in spices. Only someone like Rose could make such complex connection through food.
Only a traveler who genuinely loves the world represented on her menu can breathe life into a restaurant that speaks to the soul as much as the palette. Only a visionary would bet that our shared culture of sharing a meal is stronger than the individual cultures we come from. Only a fighter could turn such an idea into reality in one of the toughest markets in the world, twice over.
But then, that's Rose, the small-town girl who made it big by making the world seem so small.