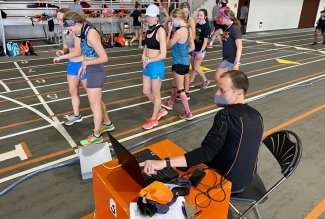 From senior capstone project, to working prototype, to marketable device—an engineering grad's invention is being put through its paces by ONU track and field.
For the uninitiated, distance running might not seem like a pursuit that hinges on artistry, or even technique. Stamina, strength, determination, high pain tolerance; these are the attributes of a distance runner. Don't let the lithe body types fool you. Theirs is a brute force sport. And they are warriors.
In truth, there is only one trait that any runner really cares about, and that is how fast they are. A runner can only will themself so far. To be fast, they need to be efficient. They need to refine their technique, and most importantly, they need to train 'at pace.' A runner's pace is traditionally defined as the amount of time it takes someone to cover a certain distance. It's typically measured on a track with a stopwatch. But what if runners are looking at pace all wrong. What if pace isn't really the outcome of the endeavor? What if pace is what informs the outcome?
That's what Bryan Peck, BSEE '20, believes. And he spent a good part of his senior year at Ohio Northern University creating a device that can help runners train at their optimal pace without having to wait until the end of the lap to know if they'd achieved it. What began as "what if" musings from runners on the ONU cross country team transformed into a question in Peck's head. What if there was a way you could know every step was on pace? How would you even do that?
At ONU's T.J. Smull College of Engineering, that's the kind of question capstone projects are made for. Every senior engineering student completes a capstone project that demonstrates that they possess the skills and knowledge required for a career. It is a culmination of everything the student has learned in their time at ONU. For Peck, that didn't just mean engineering.
Like many ONU students, Peck explored his passions while at ONU. When he wasn't tinkering in the engineering building, he could be found at meetings of the half dozen student organizations he was part of, playing disc golf or—most likely—running. Peck was a member of the ONU cross country, and indoor and outdoor track and field teams. Distance running was something he loved to do, and he'd learned so much about the sport from ONU Cross Country/Track and Field coach Jason Maus, that he saw an opportunity to use his capstone to develop what would become the OnPace training system for runners.
"I learned from Coach Maus that for the best workouts, track runners need to have perfect pacing," says Peck. "But the traditional way of achieving that is by having a coach with a stopwatch monitor a runner and record the time it takes to run a lap. I thought it would be interesting to engineer a system that would allow runners to achieve perfect pacing on their own."
As an electrical engineering student, Peck was initially drawn to the existing commercially available computer-controlled tracking systems that use a circuit of lights to provide a visual cue to runners as they train. One such product called LED Rabbit sends a pulse of light around the track for runners to follow. Peck saw an opportunity to improve the technology, capabilities and economy of a modular LED-based system. If running is about efficiency, so too would his OnPace training tool.
As Peck saw it, the existing systems had two major flaws; they are expensive —often requiring the track to be surveyed before a system can be installed, and they are limited to three different paces using the same color . Either one of these issues alone is enough to make a small college like ONU shy away from such a system. Coupled together, the strain on resources—both monetary and track availability for the athletes—makes it impossible. Fortunately, OnPace has answers for both.
Peck pitched his idea as a capstone in May of 2019 and was assigned to the project along with fellow engineering students Bo Lenhardt, BSCS '20, and Collin Mastowski in the fall of 2019. They began by researching the available materials and existing programming and control systems that would give OnPace an edge on the competition. From the start, Peck wanted to utilize the inherent benefits of multi-color LEDs to provide more than one pace at a time. He foresaw a system that could maximize track time by having more runners on the track running at different paces. For instance, a group of runners training for the 400-meter relay at a much faster pace than runners training for the 800. And those runners are faster than athletes training for the 1,500. With Peck's system, due to its ability to produce eight simultaneous color-coded paces, all three groups could train at the same time, on the same track, and still enjoy the benefits of the system.
The other key characteristic to OnPace would be its modularity. Peck felt the best way to cut costs and avoid costly track surveys would be to design the system in small pieces that could be daisy chained together to meet the needs of any sized track. For their prototype, the team built two five-meter sections, but the final design would feature 20-meter sections joined at control boxes containing Raspberry Pi mini computers. Due to the efficiency of the components, 10 segments of the OnPace system—enough for a 200-meter track—would still only need to draw power from one standard power outlet and could be controlled by a single laptop computer.
In any year, a senior engineering capstone project is a formidable challenge that requires a considerable amount of time and energy. Add in a global pandemic and things get really tricky. The team was able to complete much of the research needed to create their system designs in the fall and winter, but when ONU transitioned to virtual learning in March due to the COVID-19 pandemic, Peck, Lenhardt and Mastowski had to split up the final builds for all of the hardware needed for OnPace. Instead of presenting their project at the senior design showcase, which was canceled due to the pandemic, the students presented OnPace virtually from Peck's living room.
The two, five-meter sections of computer-controlled LED strips they presented proved that the system could theoretically work on any sized track. The system effectively demonstrated the ability to illuminate LED lights in sequence with the speed adjusted via a software application running on a laptop computer. The prototypes included all electronics, wires and housings needed to keep the system protected and as inobtrusive as possible.
But proof of concept is one thing. Proving that OnPace could work in reality was something beyond a capstone project. Peck would need a partner to fully realize OnPace's potential as a viable training tool. Like a runner completing a lap, Peck's OnPace system came full circle back to ONU track and field. In Maus, Peck found someone who would not only provide them with a track, but also fund the project to scale up to meet the 200-meter requirement of ONU's indoor track.
"Bryan's project is fantastic!  Beyond it being a really awesome idea, it is a really practical tool for us," says Maus. "It primarily helps us practice. We can set up multiple workouts for different training groups at the same time because we can program the system to use different colors. So, a fast group might use green, a medium group might be red, a runner rehabbing from injury might be blue—all different paces. This helps us a ton in training by maximizing track time for our athletes."
OnPace was installed in August and Maus recently shared some images and video of the system on social media. He said that it has definitely caught the eye of a few coaches around the country due to its effectiveness and ease of use.
"I doubt many DIII programs have something like this. I think this is a big deal in the world of track and field. We promote it to recruits and our athletes are really excited about it. It's a thrill to see the practical application of things learned in the College of Engineering that we can put to use here in athletics," Maus says.
Peck is currently a mission analyst associate for Ball Aerospace in Denver, Colorado, but he is exploring options to commercialize OnPace into a business venture. He even got a head start pitching his invention to "investors" at last spring's virtual Polar Pitch entrepreneurship competition hosted by the Dicke College of Business Administration.
"Like so many of my experiences at ONU, this project is the result of teamwork. I had so much help getting OnPace to work—from Colin and Bo on my capstone team, to my friends Zack VanDyke, BSEE '20, and Jacob Francis, BSCE '20, who helped me with Raspberry Pis and LED light strips, and my friend Jack Borden, who helped me overcome programming roadblocks even though he was doing a co-op at the time. Engineering, like running, is more fun with friends."
Work is also more fun when you enjoy it. Famed ONU alumnus Bob Peterson, BSME '83, once offered a simple piece of advice to students during his acceptance speech for the T.J. Smull College of Engineering's Distinguished Alumni Award. "Make your vocation your avocation," he said. In other words, find what you enjoy doing and turn that into a career. For Peterson, that meant combining his love of art and storytelling —particularly drawing cartoons for the Northern Review—with his formal engineering education. Peterson chose not to compromise what he loved doing with how he'd earn a living, and he has enjoyed a wildly successful career at Pixar Animation Studios as a result.
Peck clearly is on a "Peterson Path" of his own. He found a way to combine his love for running with his passion for engineering. He is just at the beginning of his career, and he's already on pace for it to be a richly rewarding one.