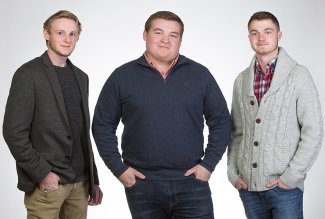 A trio of Ohio Northern University students were named University Innovation Fellows by the National Center for Engineering Pathways to Innovation (Epicenter). Adam Berry, a junior mechanical engineering major from Brunswick, Ohio; Nathan Craft, a senior civil engineering major from West Alexandria, Ohio; and Jonathan Szczerba, a junior biochemistry major from Mount Victory, Ohio; have just completed training to join Epicenter's University Innovation Fellows, a national program that empowers student leaders to increase campus engagement with innovation, entrepreneurship, creativity and design thinking. 
 One hundred and fifty-five students from 47 higher education institutions have been named University Innovation Fellows by Epicenter. The University Innovation Fellows program empowers students to become agents of change at their schools. Fellows work to ensure that their peers gain the knowledge, skills and attitudes required to compete in the economy of the future and make a positive impact on the world
To accomplish this, the Fellows advocate for lasting institutional change and create opportunities for students to engage with innovation, entrepreneurship, design thinking and creativity at their schools.
Fellows design innovation spaces, start entrepreneurship organizations, host experiential learning events and work with faculty to develop new courses. Fellows who joined the program in the 2014-15 academic year held 112 events and established 35 spaces at their schools.
The program is run by Epicenter, which is funded by the National Science Foundation and directed by Stanford University and VentureWell. With the addition of the new Fellows, the program has trained 607 students at 143 institutions since the beginning of the Epicenter grant.
Individual Fellows, as well as institutional teams of Fellows, are sponsored by faculty and administrators and selected through an application process twice annually. Following acceptance into the program, schools fund the students to go through six weeks of online training and travel to the University Innovation Fellows Annual Meetup in Silicon Valley. Throughout the year, they take part in events and conferences across the country and have opportunities to learn from one another, Epicenter mentors, and leaders in academia and industry.
These three students were able to attend the conference thanks to the support of the Kern Entrepreneurial Engineering Network and the Kern Family Foundation