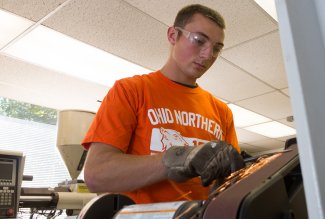 Ohio Northern University technical studies students Brady Schulte, a senior manufacturing technology major from Ottawa, Ohio, and Eric Radford, a senior construction management major from Upper Sandusky, Ohio, presented their research findings "Energy Conservation Audit of a Technology Program" at the annual Association of Technology, Management and Applied Engineering (ATMAE) conference in Orlando, Fla.
Schulte and Radford conducted this research to find sustainable and energy-savings techniques and processes that could be employed in ONU's Taft Memorial Building to reduce the energy needs for the department and assist in making the building more environmentally friendly. The research was designed to look at energy-savings costs associated with lighting, computer use, equipment use and Energy Star capabilities. Technology studies faculty members Rich Miller, Ph.D., and Trevor Robinson, Ph.D., assisted in the research.
Miller gave two presentations at the conference and participated in the ATMAE Certification Board of Directors meetings. His presentations were "Using Collaboration Between Industry, Students and Alumni to Design, Develop and Install a Solar Project at a University Nature Center" and "Analyzing Enrollment Trends for all Construction Management and Manufacturing Programs Accredited by ATMAE," which he gave in collaboration with Robinson.
Paul Nutter, chair of the department, presented "Survey of Digital Manufacturing and Simulation Curriculum Effectiveness for Manufacturing Technology Alumni." He also served as master of ceremonies for the ATMAE robotics competition.
Fellow technological studies faculty member David Rouch, Ph.D., participated in the Region 3 Director of Epsilon Pi Tau Honorary and Board of Directors' meetings, as well as the Ohio Technology and Engineering Educators Association Board of Directors meeting.
Further, Paul Dettman, Ph.D., received an Epsilon Pi Tau scholarship and was formally initiated into the organization.