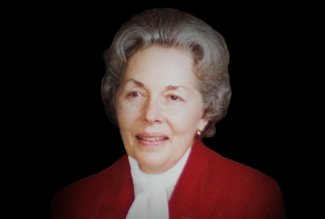 The Ohio Northern University Symphonic Band will present a concert to honor the memory of Catherine "Kitty" Freed, former first lady of Ohio Northern, at 4 p.m. on March 19 in the Freed Center for the Performing Arts.
The concert will feature motivational and special music designed to reflect Catherine Freed's positive spirit and uplifting nature.
Her husband, DeBow Freed, served as president of the University from 1979 to 1999, and she was an active member of both the university and local communities, as well as a strong supporter of Ohio Northern and its students during and beyond this time. The Freeds were full partners in a life of service, particularly in higher education. He also served as president, and she as first lady, of the University of Findlay.
Catherine Freed, who passed away in November 2016, held a BA and BFA from the University of Texas, an MA from the University of Kansas and an honorary doctorate from Ohio Northern.
The annual ONU Catherine Freed Award to a Senior Woman for Leadership and Service is named for her as is the Catherine Freed Mortar Board chapter and the Freed Contemporary Christian Lecture Series at the University of Findlay.
Ticket information for the concert is available by calling the Freed Center box office at 419-772-1900 between noon and 5 p.m. Monday through Friday.