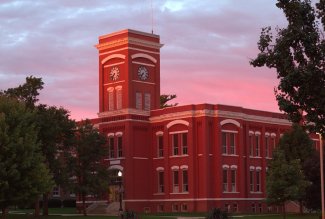 This past summer, Price participated in a two-month international program at Dankook University in South Korea. The summer program was offered through the ONU Study Abroad Office. In South Korea, he took classes with other students from around the world and had the opportunity to give a final speech in front of his classmates at the program's close.
Price, an alumnus of Colts Neck (N.J.) High School, will graduate from ONU in May 2018 with a dual major in political science and psychology and a minor in international studies. After school, he is pondering different options. "I may work for a lobbying firm and then attend law school. However, I am also considering returning to Korea and then earning my master's degree in international studies."
Initially, however, Price was hesitant about embarking on this journey. "When people found out I was going to Korea, they thought I was insane," he said. But upon experiencing Korean culture firsthand, Price says his outlook changed dramatically. "I learned more about myself, others and the world in those two months I was abroad than at any other time in my life."
Part of Dankook's program gave Price the chance to teach, which is what initially drew him to the program. "I was given the opportunity to teach English to about 15 Korean students," he said. "It was incredible to interact with those students and to discuss differences between college life in the States and Korea." Because Dankook's program was open to other countries as well, Price had the opportunity to speak with students from Spain, England, Canada, Germany and other places.
"It was a unique feeling to be a teacher in a classroom full of people your age who are interested in not only the subject matter, but also you and your culture," Price said. "Often, my students and I would go to lunch or dinner and spend hours discussing cultural differences or just life in general."
At the end of the two months, during his final speech, Price said he found it difficult to say goodbye. "My favorite thing about the program was the bonds I made with some of the other teachers," he said, in reference to the other international students. "While we were in Korea, none of our phones worked because we didn't have Korean cell phone plans. The lack of cell phones meant we all spent hours and hours each day just talking, trading stories and contemplating life."
The absence of distracting technology is something that Price has missed upon his return to the United States. "In an age where there is so much division in society, it was nice to be able to sit down with people from all over the world and have a nice chat."
The support of ONU faculty member Ñusta Carranza Ko encouraged Price to pursue this experience. "I would like to thank Dr. Ko for her amazing work as an advisor and a mentor. Without her, I would never have had this experience."
Now, with new experiences on the horizon, Price urges others to pursue their own adventures. "In life, you need three things: good food, good friends and even better adventures. You may not have to go to Korea to find yourself, but please spend some time exploring the world around you. Go see what is over the next hill; you never know what you'll see."