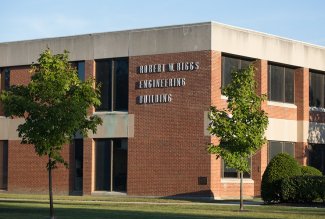 Speedway executive David R. Heppner will discuss "Engineering and the Entrepreneurial Spirit" during a talk at 7:30 p.m. on Feb. 19 in the Freed Center for the Performing Arts at Ohio Northern University. The talk, which is part of the T.J. Smull College of Engineering Spotts Lecture Series, is free and open to the public.
Heppner, an ONU engineering graduate, is senior vice president of engineering services and corporate support at Speedway LLC.
This event is good for one CPD hour. RSVP for CPD attendance to Laurie Laird at l-laird@onu.edu or 419-772-2421.
Heppner began his career with Marathon Oil Company in 1988. During his years with Marathon, he held various positions, including design engineer, construction engineer and project manager in Findlay, Ohio, and Chicago, Ill.
In 1995, Heppner transferred to Emro Marketing Company, where he advanced to vice president of operations. 
In 2010, Heppner was appointed director of Wholesale Marketing at Marathon Petroleum Corporation. In 2014, he became vice president of transition at Speedway. At the close of the Hess acquisition, Heppner was named senior vice president of Engineering Services and Corporate Support at Speedway.
Heppner is a current member of the Marathon Employees Political Action Committee Board. He also serves on the United Way of Clark, Champaign and Madison Counties Board of Trustees and March of Dimes Board. He recently served as the vice president of membership for the Boy Scouts of America, Black Swamp Council. Heppner is a past member of the Children's Miracle Network's Board of Governors and Dayton Children's Hospital Foundation Board of Trustees. He is a past member of Wright State University College of Engineering and Computer Science External Advisory Board.
Heppner graduated from Ohio Northern University in 1988 with a bachelor's degree in electrical engineering. He attended the Wharton School Advanced Management Program in 2013, and he is a registered professional engineer in the state of Illinois.
The Spotts Lecture Series was established in 1986 to bring distinguished speakers to ONU on an annual basis to inform students of the probable professional conditions and challenges that engineers and computer scientists will face in the future.
Dr. Merhyle F. Spotts, sponsor of the lecture series, graduated from Ohio Northern's College of Engineering in 1923. After 10 years in heavy and light industry, he obtained a master's degree from Ohio State University and a Ph.D. from the University of Michigan. He taught at the University of Michigan, Johns Hopkins University and Northwestern University. He wrote extensively for technical journals and was the author of four books, among them "Design of Machine Elements," now in its sixth edition and in worldwide use. He was the recipient of many awards and honors, among them an honorary doctorate of engineering from ONU.