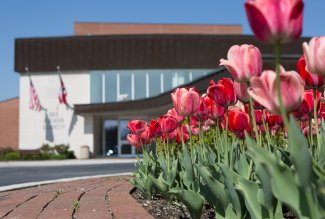 Ohio Northern University's Department of Theatre Arts will present "Romeo and Juliet" Sept. 27 through Sept. 30 in the Freed Center for the Performing Arts. Performance times are 7:30 p.m. Sept. 27 through Sept. 29, with 2 p.m. matinee performances on Sept. 29 and Sept. 30.
William Shakespeare's classic tale of star-crossed lovers will come to life as young Romeo and Juliet become fortune's fools when the war between their families forces them to sacrifice everything for the chance to be together. Generations collide as true love defies family expectations.
Christopher Hartman, a junior musical theatre major from Mount Vernon, Ohio, plays Romeo, and Adelyn Helms, a senior musical theatre major from Pittsburgh, Pa., is cast as Juliet. Brian Sage, ONU assistant professor of theatre, is the director.
Tickets are $20 for adults, $10 for senior citizens, and $5 for students and children and are available at the Freed Center box office during business hours. Contact the box office at 419-772-1900.
A post-show discussion will take place immediately following the performance on Sept. 30 and will be free of charge and open to the public. The discussion will feature the artistic staff and cast of the production sharing their experiences and responding to questions and comments from audience members.
"Every great play deserves to be re-explored within the context of our contemporary lives, especially a play like 'Romeo and Juliet,' which has been so deeply embedded in the popular culture through numerous films and countless adaptations and re-tellings," Sage said. "No matter how much we think we know this play, it is constantly surprising us with its unflinching look at the human experience and what it means to love on all levels. I want the audience to step back and ponder if this is this the greatest love story of all time, and if so, why?"